iPad Putting Pressure on Windows and Android Tablet Competitors, Says Strategy Analytics
Despite the worldwide tablet market declining in shipments for 14 consecutive quarters, the iPad is seeing growth, and regaining market share over its competitors, according to research firm Strategy Analytics.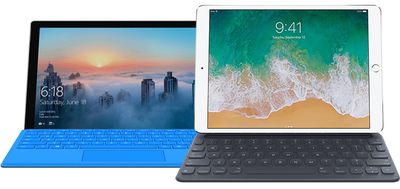 Earlier this week, Apple reported that it sold 11.55 million iPads in the second quarter of 2018, spanning April 1 through June 30. Those sales gave Apple a 28.2 percent share of the worldwide tablet market in the second quarter, its highest in that period since 2013, according to Strategy Analytics.


Apple's second quarter share of the worldwide tablet market based on historical data from the research firm:
2012: 47.2%

2013: 28.3%

2014: 25.3%

2015: 21.5%

2016: 21.3%

2017: 26.1%

2018: 28.2%
Apple's market share was boosted by the launch of a new lower-cost iPad in late March, shortly prior to the educational buying season, and just days before the second quarter. The tablet, starting at $329, lowered the iPad's average selling price to $410 last quarter, down from $434 in the year-ago period.
Apple's presence in both the lower-priced market, with the iPad, and higher-end market, with the iPad Pro, is putting pressure on its competitors like Microsoft and Samsung, according to Strategy Analytics.
Chirag Upadhyay, Senior Research Analyst at Strategy Analytics:
Apple is using its market size and brand power to put pressure on its Windows and Android competitors. By lowering prices and adding more functionality during every product cycle for the last year, Apple has regained several points of market share and still maintaining a strong ASP due to its Pro and standard iPad mix. Android vendors, in particular, should be very concerned with how much revenue they are losing to Apple in 2018.
Android shipments fell to 23.6 million units worldwide in the second quarter, down 10 percent from 26.4 million in the year-ago quarter, according to Strategy Analytics. Likewise, Windows shipments fell two percent to 5.8 million units in the second quarter, from 5.9 million a year earlier, the research firm said.
Nevertheless, Microsoft's shipments of the Surface Pro and Surface Book 2 reached over one million in the second quarter, and could reap even better results in the current quarter with the release of the Surface Go, according to Eric Smith, Director of Connected Computing at Strategy Analytics.
Surface Go launches today with a base price of $399, although with a Type Cover keyboard, the price jumps to $498.
For now, though, the iPad easily remains the world's most popular tablet, in a market where many Android vendors are losing share and revenue due to falling prices and a perceived lack of innovation.