Logitech has announced its acquisition of Blue, the California-based maker of studio-quality microphones, in a $117 million cash deal.
Blue, creator of the popular Yeti and Snowball microphone lines, will join Logitech's portfolio of other brands, which includes Jaybird, Ultimate Ears, and ASTRO gaming.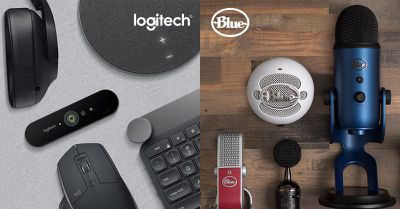 In a blog post, Logitech CEO Bracken Darrell explained how the acquisition would allow the firm to expand into the growing broadcast market and complement its existing range of accessory products.

Logitech's acquisition of Blue Microphones will accelerate our entry into a growing market, and offers another way for us to help bring people's passions (from music to blogging) to life. Joining with Blue is an adjacent opportunity for us – a new way to grow – with additional synergies related to our existing gaming, PC webcam and audio categories.
In a separate blog post, Blue Microphones CEO John Maier said he was "super excited" about the partnership, which would allow his firm to continue making "the coolest microphones on the planet".

All of us here at Blue will keep creating cool stuff for professional musicians, gamers, podcasters, YouTubers, and streamers; Logitech will help us conquer the world. It's a great partnership full of possibilities.
Logitech has gained a favorable reputation for acquiring companies with a view to investing in established brands, so the purchase shouldn't overly concern fans of Blue products going forward.