Apple Pay Predicted to Account for Half of Mobile Wallet Users by 2020
Juniper Research today published new data outlining predictions for mobile payments processing over the next five years, placing Apple Pay at the forefront in the market ahead of rivals like Samsung and Google. The study looked at Apple Pay, Samsung Pay, Google Pay, and other "OEM Pay" (official equipment manufacturer) wallets.
In total, OEM Pay users will reach 450 million globally by 2020, and the researchers predict that Apple Pay will account for 1 in 2 of these OEM Pay users at that time. This growth will cause OEM Pay wallets to reach $300 billion in transactions by 2020, representing 15 percent of total contactless in-store transactions within two years.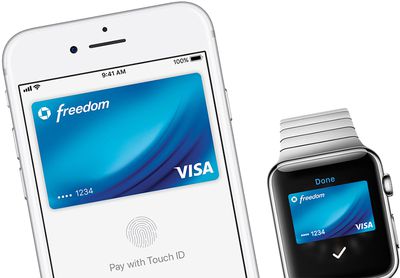 While Juniper Research included newcomers to the mobile payments market like Fitbit Pay and Huawei Pay, they admit that these will likely not grow much and mobile wallets will continue to see leaders in Apple, Samsung, and Google.

Research author Nitin Bhas explained: "We believe that growth over the next 5 years will continue to be dominated by offerings from the major OEM players. Additionally, we now have the likes of Huawei Pay and Fitbit Pay launching in several markets; this is now included in Juniper's contactless forecasts".
Although mobile wallets will continue to grow, the research shared today also looked at the overall market of contactless payments, which will still see dominance from contactless card payments made using physical credit and debit cards. In-store contactless payments will reach $2 trillion by 2020, making up 15 percent of the total point of sale transactions and driven by "strong adoption" in Europe and countries in the Asia Pacific region.
Sooner than 2020, contactless payments are already set to exceed the $1 trillion mark for the first time in 2018, one year earlier than Juniper Research previously predicted. These NFC-enabled credit cards began growing in popularity in recent years, arriving at a time when major credit card companies are aiming to simplify the checkout process for customers using both physical and digital cards.
In another Apple Pay-related research note shared earlier this year, Loup Ventures estimated that Apple Pay was being used on 16 percent of active iPhones worldwide. Looking to the future, Loup Ventures also predicted that Apple's mobile wallet will "gain widespread adoption" over the next three to five years, despite a slow few years of growth that began when Apple Pay launched in 2014.