Corning Debuts Gorilla Glass 6 With 'Unprecedented' Multi-Drop Protection That Could Be Used in Future iPhones
Corning this morning unveiled its next-generation Gorilla Glass product, Gorilla Glass 6, which it says offers "unprecedented protection against multiple drops" and better protection against drops from higher heights.
According to Corning, Gorilla Glass 6 is its most durable cover glass to date, made of a new material that's been engineered to stand up to more than one drop. The average person drops their smartphone seven times a year, making multi-drop durability a key feature Corning wanted to improve.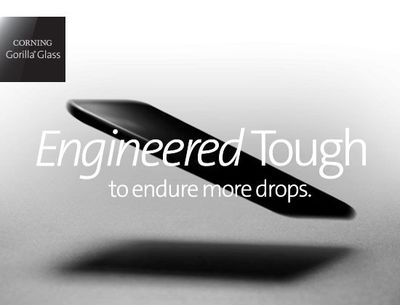 Devices using Gorilla Glass 6 were able to withstand 15 drops from one meter onto rough surfaces, which is up to two times better than Gorilla Glass 5, which Corning has been offering to its partners since 2016. Competitive glass compositions like soda lime and aluminosilicate, did not survive the first drop, says Corning.
"Gorilla Glass 6 is an entirely new glass composition that can be chemically strengthened to give it significantly higher levels of compression than is possible with Gorilla Glass 5. This enables Gorilla Glass 6 to be more resistant to damage," said Dr. Jaymin Amin, vice president of technology and product development, Corning Gorilla Glass and Corning Specialty Materials. "Moreover, with breaks during drops being a probabilistic event, the added compression helps increase, on average, the likelihood of survival through multiple drop events."
The higher durability of Corning's new Gorilla Glass product was engineered with all-glass smartphone designs in mind, like the iPhone X, iPhone 8, and iPhone 8 Plus, offering optical clarity, touch sensitivity, scratch resistance, efficient wireless charging, and enhanced durability.
Gorilla Glass 6 is likely to make its way into future iPhones, and could even perhaps be included in the 2018 iPhone lineup, depending on when Corning provided details on the new product to Apple.
Corning has been a longtime Apple supplier, with Gorilla Glass used in devices across Apple's product lineup. In May of 2017, Corning even became the first benefactor of Apple's Advanced Manufacturing Fund, receiving $200 million for research and development and new glass processing equipment.
Corning says its Gorilla Glass 6 is being evaluated "by multiple customers" and the first smartphones and devices using Gorilla Glass 6 are expected to reach the market in the next several months.