iFixit Teardown Suggests 2018 MacBook Pro Keys Feature a Silicone Barrier to Prevent Malfunctions Due to Dust
The keys of the new 2018 MacBook Pro, which uses a third-generation butterfly keyboard, appear to be cocooned in a "thin, silicone barrier" according to a teardown that's underway over at iFixit.
According to iFixit, the quieter typing Apple has been advertising in the 2018 MacBook Pro models is a side effect of the new membrane, which the site believes is actually an "ingress-proofing measure" to prevent the butterfly keys from seizing up when exposed to dust and other small particulates.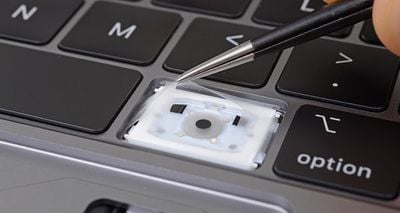 To back up its claim, iFixit points towards a patent for the technology Apple may be using in the third-generation butterfly keyboard, which describes a "guard structure" that keeps direct contaminants away from the movement mechanism.
iFixit does warn, however, that while the silicone barrier is clearly in place, there's no way to definitively prove that it's a reliability fix rather than just a sound damping measure, citing statements from Apple to The Verge that have said the new keyboard design wasn't introduced to "solve [dust] issues." Apple also told The Verge and other sites that the issue in question has only impacted a small number of customers.
iFixit speculates that Apple is avoiding sharing the complete reasoning behind the keyboard redesign because of the class action lawsuits that it's currently facing over faulty 2016/2017 MacBook Pro keyboards.
Apple is in the middle of several class-action lawsuits for the failure of their keyboards, so of course they can't just come out and say, "Hey, we fixed it!" That says there was a problem to begin with. But you've heard that clever analysis from John Gruber already. I'm just here to posit: the advertised boost in quietude is a side-effect of this rubbery membrane. The quiet angle is, quite literally, a cover up.
Since Apple unveiled the 2018 MacBook Pro with its third-generation butterfly keyboard, there have been questions about whether specific changes were made to address keyboard failure issues present in 2016 and 2017 MacBook Pro models.
Apple has been vague when answering questions about the way the quieter keys were implemented and if those changes also impact durability and reliability, but iFixit's teardown offers hope for customers who have been waiting for Apple to fix the keyboard problems affecting older MacBook Pro models.
Some 2016 and 2017 MacBook Pro owners have experienced issues with sticky, unresponsive, or repeating keys, leading to significant public outcry that eventually pushed Apple to launch a free repair program for those machines. As a result of the attention given to the issue, some customers have been wary about purchasing a new MacBook Pro because of possible future problems.
Future failure rates and anecdotal reports may be the only way to determine the true purpose behind the silicone barrier added to the keys, as Apple's marketing materials insist the change has been introduced to allow for a quieter typing experience, addressing an issue that few people seemed to have had with the 2016/2017 keyboard.
Earlier today, TechCrunch shared a video demonstrating the typing sound of the new 2018 MacBook Pro compared to an earlier MacBook Pro model, confirming that it is indeed quieter as Apple says. Multiple hands-on reports have also said there's a noticeable difference between the sound of the new MacBook Pro and older models.
iFixit plans to continue on with its teardown next week and may have more information to share, but given the interest in the third-generation butterfly keyboard, the site didn't want to wait to highlight potential good news.