2018 MacBook Pro Has 'Quieter' Keyboard, But Unclear if Sticky and Unresponsive Key Issues Addressed
Apple today released new 2018 MacBook Pro with Touch Bar models that feature "improved" and "quieter" third-generation keyboards, but it's unclear if issues with sticky or unresponsive keys have been addressed.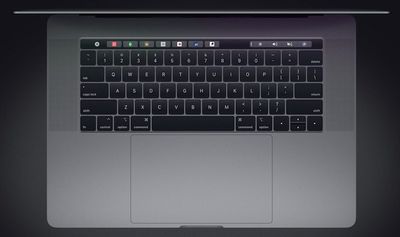 TechCrunch's Brian Heater:
I can say definitively that the keyboard is noticeably quieter than its predecessor. I wasn't able to get a side by side comparison yet… but as someone who uses a Pro with the second-gen keyboard every day, I can confirm that the improvement is immediately apparent.

Otherwise, there's really no difference with the new keyboards from a mechanical perspective. The butterfly switches are the same, and they offer the same amount of key travel as their predecessors. The company won't actually say what it's done here to lower the clickity-clack… but it's certainly an improvement.
Heater speculates that Apple may not have had enough lead time to completely redesign the keyboard on the 2018 MacBook Pro, as despite years of anecdotal complaints, the situation only developed into a furor more recently.
iMore's Rene Ritchie is more optimistic that Apple hopefully reengineered the keyboards to have improved reliability:
There is a new keyboard. Or rather, newish. It's a 3rd generation Butterfly and Dome switch set up. That's not what scissor-key fans are going to want to hear, but Apple believes it's a better, more stable, more precise overall typing experience and is sticking with it.

It's been reengineered though, and while I'm sure — or at least I desperately hope — reliability will improve — the major focus was on reducing the loudness. That, according to Apple, has been some of the most intense feedback the company has gotten over the new keyboards.
The Verge's Dieter Bohn, however, says the third-generation keyboard "wasn't designed to solve those issues," based on what Apple told him during a press briefing for the new MacBook Pro earlier this week.
This new third-generation keyboard wasn't designed to solve those issues, Apple says. In fact, company representatives strenuously insisted that the keyboard issues have only affected a tiny, tiny fraction of its user base…

When we asked Apple representatives at the event exactly how the keyboard was changed to make it quieter, they declined to specify.
That can be interpreted in two ways: either Apple has not made any structural changes to the keyboard to address the issues outlined in its service program, or it has and doesn't want to acknowledge it on the record.
Engadget's Dana Wollman also believes, based on Apple's information, that the "stability and precision of the keys remain unchanged":
As for the keyboard, it's supposedly quieter. Though I had a few minutes to play with it in my demo this week, I'm not ready to pass any sort of judgment. For one thing, I never thought the MacBook Pro keyboard was that loud to begin with, and when I had a chance to try it this week there was no opportunity to do a side-by-side test. It does appear, based on everything Apple has said, that the stability and precision of the keys remain unchanged.
MacRumors reached out to Apple for clarification, but we did not immediately receive a response. We'll update if we hear back.
For context, following years of anecdotal complaints from customers, and a few class action lawsuits, Apple initiated a worldwide service program last month, offering free repairs of 2015-and-later MacBook and 2016-and-later MacBook Pro keyboards, which have low-profile butterfly switch mechanisms.
We've already reported about the service program in more detail, but the gist is that affected MacBook and MacBook Pro models can experience issues with sticky, unresponsive, or inconsistently functioning keys when small particles like dust or crumbs get stuck underneath the shallow keycaps.
Teardowns and extended usage of the 2018 MacBook Pro keyboards should reveal whether the issues have been fully addressed.