Apple.com today gained a new and exclusive external GPU aimed at the MacBook Pro, called the Blackmagic eGPU. According to TechCrunch, the unit's appearance exclusively on Apple's website comes in the wake of a partnership between the two companies as Apple aims to widen the eGPU market after launching support for eGPUs this past spring.
Running for $699.00, the Blackmagic eGPU provides desktop-class graphics performance on a MacBook Pro, through a Radeon Pro 580 graphics processor with 8GB of GDDR5 memory. The accessory connects via Thunderbolt 3, includes two Thunderbolt 3 ports, four USB 3.0 ports, one HDMI 2.0 port, and 85W power delivery. A Thunderbolt 3 cable also comes in the box.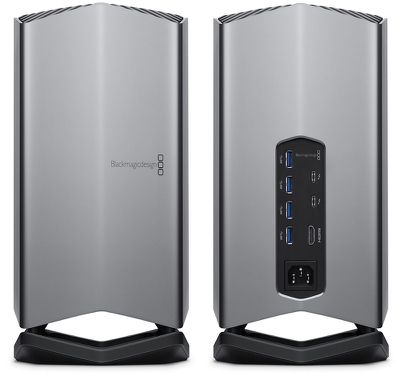 With external GPUs, users can take advantage of smoother gaming experiences, boost graphics-intensive app workflows, enable virtual reality experiences, and even build VR content. Apple leaned into virtual reality as a selling point of eGPUs following the announcement of eGPU support at WWDC 2017, offering eGPU enclosures to developers who want to work on graphically intensive VR applications and games that run on macOS.
Those interested can purchase the Blackmagic eGPU today for $699.00, and the first units are expected to arrive in two days, on Saturday, July 14. Order pickup is also available at nearby Apple retail stores.