Apple Offers External GPU Enclosure to Developers As Valve Opens Door to VR Mac Gaming
Apple announced a new version of its Metal graphics technology during Monday's keynote at the Worldwide Developers Conference. As part of macOS High Sierra, Metal 2 will officially support external GPUs, allowing any Mac with a Thunderbolt 3 port to benefit from graphics hardware powerful enough to run demanding virtual reality applications and games.
The native VR support in macOS High Sierra also opens up the possibility for Mac owners to hook up VR headsets to their computer for the first time. And in a concurrent related announcement, Steam game platform creator Valve also revealed in a blog post on Monday that it is making a beta version of its SteamVR software development kit available on Mac, offering players the same 360-degree, room-scale tracking as the Windows and Linux variants.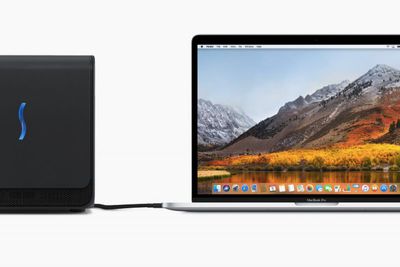 On the development side, we have worked closely with Epic and Unity to make Mac extensions of content built on those engine technologies as simple as possible. Extension tools for those engines, and others, are available as part of this beta.

We've also worked with Mozilla to help enable WebVR support on Firefox, so macOS-based web developers can start trying out VR.
In addition to the Valve partnership, Apple announced it is also selling its own external graphics enclosure to developers who want to work on graphically intensive VR and 3D applications and games, although Apple noted that external GPU support likely won't arrive for consumers until spring 2018.

Apps that use Metal, OpenCL, and OpenGL can now take advantage of the increased performance that external graphics processors can bring. The External Graphics Development Kit includes everything you need to start optimizing advanced VR and 3D apps on external graphics processors with macOS High Sierra.
Apple's External Graphics Development Kit comes with a Sonnet external GPU chassis with Thunderbolt 3 and 350W power supply, an AMD Radeon RX 580 8GB graphics card, a Belkin USB-C to 4-port USB-A hub, and a promo code for $100 towards the purchase of a HTC Vive VR headset.
The External Graphics Development Kit costs $599 and requires a Mac with Thunderbolt 3 running the latest beta version of macOS High Sierra. The other caveat is that customers have to be a member of the Apple Developer Program to be eligible to purchase the kit.
The kit can be bought directly from Apple's website, although Apple cautions that the HTC Vive promo codes have limited availability and are distributed on a first-come, first-served basis.