Key Takeaways of 2018 MacBook Pro vs. 2017 MacBook Pro
Apple today introduced new 13-inch and 15-inch MacBook Pro with Touch Bar models, now available to order from its online store.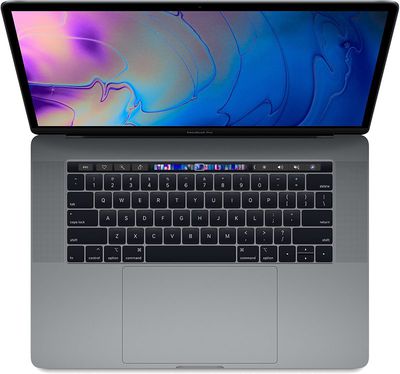 As with any new product launch, there is a wealth of information to sift through, so we've created a list of key takeaways about the 2018 MacBook Pro lineup, particularly as it compares to the 2017 MacBook Pro lineup.
2018 MacBook Pros feature eighth-generation Intel Core processors. Apple says the 15-inch model is up to 70 percent faster, and the 13-inch model is up to two times faster, than the equivalent 2017 models with seventh-generation Intel Core processors in benchmarks.

15-inch models can now be maxed out with a 2.9GHz six-core Core i9 processor, while the previous generation topped out at a 3.1GHz quad-core Core i7. Quad-core 13-inch models with the Touch Bar are now available, up to 2.7GHz, while 2017 models were dual-core up to 3.5GHz.

15-inch models have much-requested support for up to 32GB of DDR4 RAM, compared to 16GB of LPDDR3 RAM on 2017 models, accommodated by a 10 percent increase in the battery's watt-hour rating. Overall battery life remains up to 10 hours per full charge.
AMD's Radeon Pro graphics cards now come with 4GB of GDDR5 memory standard on 15-inch models, while 13-inch models now have 128MB of embedded DRAM, compared to 64MB on 2017 models.
2018 MacBook Pros have an Apple T2 chip with "Hey Siri" support, versus an Apple T1 chip in 2017 models. The T2 chip integrates several previously separate components, including the system management controller, image signal processor, audio controller, and SSD controller.
Apple now offers doubled SSD storage capacities of up to 2TB for 13-inch models and up to 4TB for 15-inch models, compared to up to 1TB for 13-inch models and up to 2TB for 15-inch models in 2017.
2018 MacBook Pros now feature True Tone displays, including the Touch Bar, on 13-inch and 15-inch models. Like the latest iPhone and iPad displays, the white balance automatically adjusts to match the color temperature of the light around you for a more natural viewing experience.
2018 MacBook Pros now feature an "improved third-generation keyboard for quieter typing," but they still use butterfly switches, and it's unclear if the new keyboard addresses the issues with sticky, repeating, or unresponsive keys that prompted Apple's new service program.
2018 MacBook Pros feature Bluetooth 5.0, up from Bluetooth 4.2. 802.11ac Wi-Fi remains unchanged.
2018 MacBook Pro models have the same overall design and I/O as their 2017 equivalents, with four Thunderbolt 3 ports, a 3.5mm headphone jack, Space Gray or Silver finishes, and so forth. 13-inch model still weighs three pounds, and 15-inch still weighs four.
2018 MacBook Pros also have unchanged display resolutions of 2880×1800 for 15-inch models and 2560×1600 for 13-inch models.
13-inch models start at $1,799 and 15-inch models start at $2,399 in the United States, the same pricing as 2017 models. However, configure-to-order prices top out higher, primarily due to larger storage options.
13-inch MacBook Pro models without the Touch Bar were not refreshed today.
MacRumors will have continued coverage of the new MacBook Pro lineup throughout the week, so keep checking back.