Microsoft Developing Dual-Screen 'Pocketable' Surface Device
Microsoft is working on a pocket-sized dual-screen Surface device according to information sourced from Microsoft internal documents and shared by The Verge.
Called Andromeda, Microsoft's dual-screen Surface project has been in development for at least two years and it's designed to "blur the lines between mobile and stationary computing," according to an internal document.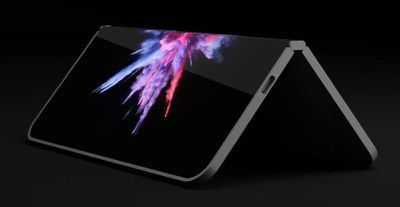 Andromeda rendering via David Breyer
"It's a new pocketable Surface device form factor that brings together innovative new hardware and software experiences to create a truly personal and versatile computing experience," is exactly how Microsoft describes the device internally.
Microsoft's device will feature a wraparound display that bridges the gap of the hinge when it is fully opened, and according to The Verge, December renderings shared by David Breyer are "identical" to the current prototype versions of the upcoming Surface. The pocketable Surface can be folded in either direction or laid flat, as can be seen in the renderings.

Andromeda rendering via David Breyer


Microsoft is said to be experimenting with stylus input for the pocket Surface, with prototype devices equipped with styluses and notepad-like apps for note taking.
The Verge's sources warn that work on Andromeda could be ceased at anytime, but Microsoft is said to have tentative 2018 release date plans, which would mean development on the device is nearing completion.
Some nebulous rumors have suggested Apple too is exploring some similar concepts, working with LG to develop an iPhone with a foldable display. Apple explores many concepts and designs for its devices, so there is likely to be some truth to the rumor.
The folding display technology being developed by LG is still a few years off, so if Apple moves forward with some sort of design that's similar to what Microsoft is working on, we won't be seeing it for several years.
At the current time, Apple is focusing on edge-to-edge displays and making a transition to OLED technology. In fall 2018, Apple is expected to introduce a second-generation 5.8-inch OLED iPhone X, a 6.5-inch OLED device that can be thought of as an "iPhone X Plus," and a 6.1-inch iPhone with an LCD display that will be available at a more affordable price point.
All three devices will feature edge-to-edge displays and no Home button, instead adopting Face ID and the TrueDepth camera system.