LG Display to Supply Apple With 2-4 Million OLED Panels for This Year's 'iPhone X Plus'
Apple's multi-billion dollar investment in LG Display to start supplying OLED technology is close to bearing fruit, reports Bloomberg. According to the report's sources, the Korean firm is almost ready to become Apple's second supplier for OLED screens, allowing Apple to reduce its reliance on Samsung, currently the sole manufacturer of the panels in iPhone X models.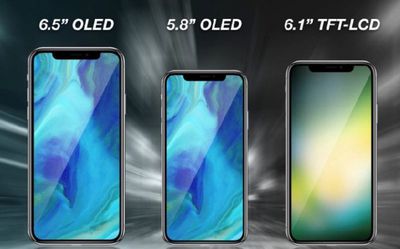 The first OLED screens from LG Display will be used in one model of the new iPhones slated for release this year, the people said. LG Display wants to supply all the screens for that Apple model, though it is not clear it can yet achieve that, one of the people said. The shipment is subject to two layers of approval, the first of which is expected around July, the people said.
Previous rumors have suggested LG will be the supplier for this year's 6.5-inch "iPhone X Plus". The sources in today's report claim LG Display will initially supply between 2 million and 4 million units, as it continues to work on ramping up capacity. While those figures are small relative to Apple's sales, the sources note that they would help Apple gain leverage in price negotiations with Samsung as it looks to eventually switch to OLED-only production for iPhone.
In April, The Wall Street Journal claimed that mass production challenges had caused LG to fall behind the schedule it had agreed with Apple. As a result, opinions within Apple were said to be divided on whether LG Display would be in a position to complement Samsung as a second source of OLED displays for the upcoming iPhones. However, analysts at investment firm Susquehanna estimated that LG will supply as much as 20 percent of OLED displays for the 2018 lineup.
Apart from the "iPhone X Plus", Apple is expected to release two other iPhone models in 2018: a second generation iPhone X and a low-cost, 6.1-inch option with a similar full-face display as seen on the iPhone X, but with LCD rather than an OLED display.
Last month, South Korea's ET News reported that Apple's transition to a full OLED iPhone lineup will be complete in 2019. However, analysts immediately cast doubt on that claim, arguing that the switch would be too early and effectively remove the chance for a "low-cost" iPhone model like the LCD version believed to be coming this year. The same view is also supported by today's report:

The latest move does not indicate Apple is aiming for adoption of OLED screens for all of its iPhones next year and it is more about diversifying its suppliers, one of the people said.
According to The Investor, Apple is investing 3 trillion won ($2.67 billion) in LG's OLED production for smartphones. LG is said to be building a production line dedicated to iPhone orders only, as part of its agreement with Apple.