Gurman: Higher-End AirPods to Launch in 2019, New HomePod and Over-Ear Headphones Also Likely Next Year
Apple's audio device strategy has been highlighted today in a new report by Bloomberg, which looked forward to 2019 and the launch of the "higher-end" third-generation AirPods, next HomePod, and previously rumored over-ear headphones from Apple.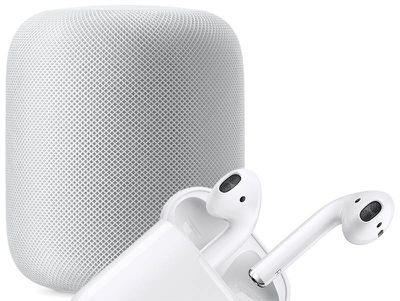 For the AirPods, next year's model is believed to be water resistant "to protect against rain and perspiration," which Bloomberg previously reported in February. In the new report, Mark Gurman and Debby Wu add that Apple is also working to introduce noise cancellation and increase the range that the AirPods can work away from iPhone or iPad, citing people familiar with Apple's plans.

Apple Inc. is about to pump up the volume on its audio-device strategy, planning higher-end AirPods, a new HomePod and studio-quality over-ear headphones for as early as next year, according to people familiar with the matter.
Additionally, the third-generation AirPods -- coming after this fall's expected second-generation update with "Hey Siri" support -- are expected to cost "more than the existing $159 pair." This is believed to cause Apple to "segment" the AirPods line like it does with iPhones, with a lower-cost model and a higher-cost model that has more features. One of these advanced features could also be a biometric sensor "like a heart-rate monitor."
Continuing its audio device push, Apple is eyeing an early 2019 debut for its over-ear headphones, after facing "development challenges" during its original late 2018 launch schedule. Bloomberg described the device as a "higher-end alternative to the company's Beats line," but otherwise didn't give any new details on features that could be coming to the headphones.
Lastly, the report quickly mentions that the second version of the HomePod is set to debut "as early as next year." Apple may also switch production on the smart speaker away from Inventec for the new model, in an overall shakeup of Apple's supply chain in regards to its audio devices. Sources said the company is looking to expand its partnership with Foxconn, which mainly helps manufacture the iPhone, and simultaneously lessen its reliance on Inventec, which helped supply AirPods and HomePod.
While updates to AirPods and HomePod have been expected, rumors first appeared for Apple's "own-branded" over-ear headphones back in February from analyst Ming-Chi Kuo. The audio accessory is expected to be "as convenient as AirPods" but with superior sound quality, active noise cancellation technology, and a price tag aimed at the high-end market.