Apple Camp Registration Now Open for Summer 2018 Programs
As it does every year, Apple today opened registration for its annual three-day "Apple Camp" event. At Apple Camp, kids between the ages of 8 and 12 can partake in hands-on projects at Apple retail locations by choosing one of three tracks and spending 90 minutes per day for three days "immersed in their chosen subject."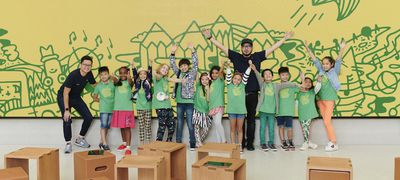 The three programs include "Coding with Sphero Robots", "Beat Making and Songwriting with GarageBand", and "Telling Stories with Clips." Apple broke down what each program is about on the registration page for Apple Camp:

Coding with Sphero Robots - In this three-day session for kids ages 8-12, we'll introduce the fundamentals of coding using Sphero robots. Each day Campers will learn a new coding concept and practice problem-solving skills. They'll partner up for fun activities to program their Sphero to change colors, create sounds, complete challenges, and more. Then they'll apply their coding skills to design their own games.

Beat Making and Songwriting with GarageBand - In this three-day session, kids ages 8-12 will discover the magic of beat making and songwriting. They'll start by exploring basic elements of song structure and how beats create the foundation of a song. Campers will get hands-on as they create music using Touch Instruments, add vocals, and fine-tune their creations with GarageBand on iPad. On day 3, they'll share their songs with the group.

Telling Stories with Clips - Future filmmakers ages 8-12 will explore the creative process of telling stories using video, photos, and music. Campers will brainstorm and storyboard their ideas. They'll get hands-on in groups to capture short videos, edit and enhance their shots with fun graphics and filters, and add opening and closing titles in the Clips app on iPad. On the final day, they'll present their video stories.
The days of the week and time for each program varies by region, with some classes taking place on a Monday-Wednesday-Friday schedule and others organized on a Tuesday-Thursday-Friday schedule. Classes typically begin at around 9:30 a.m. ET and stop around 5:30 p.m. ET.
The free Apple Camp sessions will kick off on July 9 and run through July 27, and parents interested can register their kids now on Apple.com in the United States, Canada, France, Italy, and more. In the United Kingdom and Germany, registration will open next Monday, June 25. Like previous years, parents or a legal guardian must accompany any child participating in the 90-minute sessions every day, and those kids who do participate will get a free Apple Camp t-shirt.