WSJ: Apple Expects Lower-Priced LCD Models to Represent Majority of iPhone Sales in Upcoming 2018 Lineup
Apple is widely rumored to introduce three new iPhone models in September, including a second-generation iPhone X, a larger version dubbed the iPhone X Plus, and a lower-priced but lesser-featured version.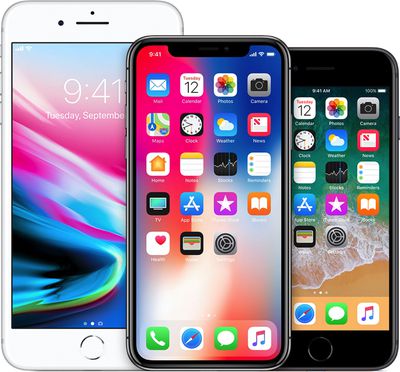 Given the iPhone X Plus is expected to have an OLED display, like the iPhone X, it would be reasonable to assume that the majority of iPhones that Apple plans to manufacture in 2018 will be of the OLED variety. According to The Wall Street Journal, however, that might not be how things play out.
The report cites sources involved with Apple's supply chain who claim that Apple now expects LCD models to make up the majority of iPhone sales in its upcoming lineup, expected to be released this fall.
Apple initially wanted roughly equal production of iPhone models with LCDs and OLED displays, but now plans to make more of the LCD model, referring to the rumored lower-priced, lesser-featured 6.1-inch iPhone, as it supposedly anticipates strong customer demand for the more affordable X-like model.
It's not entirely clear if "LCD models" will include iPhone 7, iPhone 8, and iPhone SE models, which will likely remain for sale alongside the 2018 iPhones, and would certainly help tip the scale towards LCD.
The Wall Street Journal says Apple's plans are a "sign of consumers' sensitivity to the price of smartphones," citing analysts who believe demand was weaker than their initial forecasts for the iPhone X "due mainly to its price tag." The flagship device is priced from $999 in the United States.
The report adds that Apple will likely retain at least one lower-priced, LCD-based iPhone in its 2019 lineup too, rather than shift entirely to OLED, to ensure customers have an affordable option to choose from.
A report out of Korea last month said Apple will switch to OLED for all of its 2019 iPhones, a claim that some analysts had already cast doubts on.
Apple analyst Ming-Chi Kuo, now with research firm TF International Securities, expects the next iPhone X to start at $800-$900, the so-called iPhone X Plus to start at $900-$1,000, and the 6.1-inch iPhone to start at $600-$700 in the United States, with orders for all three beginning in September.
Kuo has previously said the 6.1-inch iPhone will have a nearly edge to edge display, with a notch for Face ID, but with tradeoffs, including an LCD instead of OLED display, an aluminum frame rather than stainless steel, no 3D Touch, and a single-lens rather than dual-lens rear camera system.
If accurate, many customers may indeed opt for what is essentially a budget iPhone X, with a $300 to $400 cheaper price tag. That doesn't mean the current iPhone X was too expensive, though, as in February, Apple said it was the "top selling iPhone" every week since it launched in early November.