Craig Federighi Talks Bringing iOS Apps to macOS, Reiterates No Plans for Touchscreen Macs
In a new interview with Wired today, Apple senior vice president of software engineering Craig Federighi discussed yesterday's WWDC keynote, particularly touching upon the company's years-long plan to bring some iOS apps to macOS. In a memorable keynote moment, when Federighi mentioned users constantly asking if Apple would merge iOS and macOS, a giant "No" appeared on screen behind him.
However, the company did detail a plan to take key framework elements from iOS and UIKit and adapt them for macOS, resulting in tools that will let third-party developers easily port iPhone and iPad apps to Mac in 2019. In the interview, Federighi again explained that right now the plan is not to build a single Apple Operating System, but to begin testing out the updated UIKit tools in its own apps for Home, News, Stocks, and Voice Memos, coming in macOS Mojave later this year.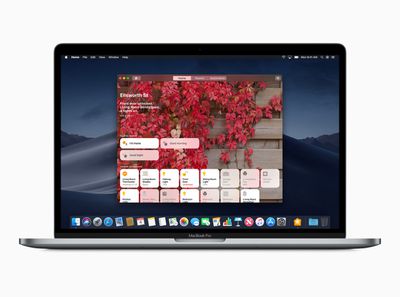 Naturally, when news about iOS apps appearing on macOS emerges, people begin to wonder again about a touchscreen MacBook. Federighi quickly shot down that idea -- which has surfaced again and again over the years -- by saying he's "not into touchscreens" on desktop computers, and likely never will be. He also mentioned that Apple doesn't see touchscreen-enabled laptops as rivals.

"We really feel that the ergonomics of using a Mac are that your hands are rested on a surface, and that lifting your arm up to poke a screen is a pretty fatiguing thing to do," he said.

Federighi added that he doesn't think the touchscreen laptops out there today—which he referred to as "experiments"—have been compelling. "I don't think we've looked at any of the other guys to date and said, how fast can we get there?"
Back on the topic of the iOS/macOS update, Federighi said that instead of these tools being emulators, Apple's plan is building a software framework for iPhone that can be brought over to Mac and "made native" to Mac. Parts of this porting process will be automated, "like turning a long press on iOS into a two-finger click on a Mac," but extra coding is predicted for UI items like menus and sidebars.

Even though the apps are effectively being shared between operating systems, Federighi emphasized that your Mac won't start behaving like an iPhone. "It's still macOS, you still have the Terminal, you can still attach four monitors to it, you can still hook up external drives," he said.
In terms of potential games to make this leap, Federighi mentioned Epic's Fortnite as a likely candidate for porting, and he also stated that websites like IMDB, Yelp, and DirecTV could gain native desktop Mac apps. While these websites could have macOS apps now, the current toolset for developers is "just more work," Wired pointed out, and Apple's new UIKit update in macOS Mojave should make the process a bit simpler.
It's not currently clear when the new tools will be ready for third-party developers, but it appears it will take some time as Federighi suggested we will hear more about the project at WWDC 2019.