Image Shows Supposed 'iPhone SE 2' Screen Protector With Smaller iPhone X-Style Notch
Sketchy claims that Apple's "iPhone SE 2" could boast an iPhone X-esque display apparently refuse to go away, with the latest addition to the rumor pile coming courtesy of Sonny Dickson.
Earlier today the parts leaker posted an image on Twitter of a supposed iPhone SE 2 screen protector that appears to share a similar notch-design to the one Apple uses to house the iPhone X's facial recognition sensors in lieu of Touch ID fingerprint recognition.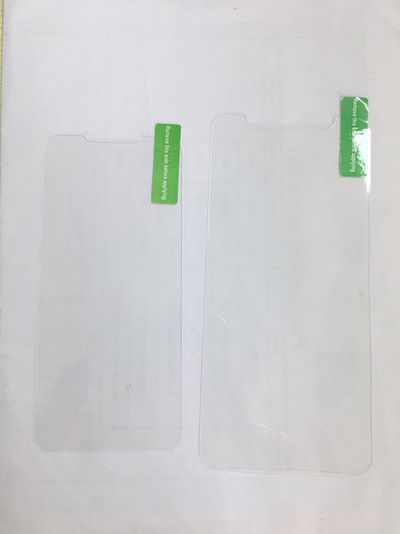 The comparison shot also shows an actual iPhone X screen protector (right) beside the allegedly leaked one in order to highlight the smaller notch that would presumably be destined for the smaller form factor phone.
Unconfirmed renders and dimensions of the next iPhone SE obtained by MacRumors from casemaker Olixar claim the device will have a length of 4.7 inches and a width of 2.1 inches, making it slightly smaller than the current model but with a larger display thanks to the fuller-screen design. They also suggest the device's notch will be around half as wide as the one on the iPhone X, but the idea that it might house facial recognition sensors still seems far-fetched.
Apart from the technological hurdles that Apple would have to overcome to achieve the unlikely feat, it's hard to imagine that Apple would include Face ID on the iPhone SE at all without hiking up the price significantly. Including the feature on an iPhone that starts at just $349 would reduce Apple's gross margins and risk cannibalizing sales of the iPhone X, which starts at $999.
Those issues put the whole notch-design in doubt, given that the lack of a home button would require some other method of user authentication. Some rival smartphones have recently featured integrated screen fingerprint sensors, but Apple has suggested it won't be following that approach ever since it developed its TrueDepth camera recognition system.
Apple hasn't properly refreshed the iPhone SE since it launched back in March 2016, but it did double the available storage capacities in March 2017. Rumors about an updated model have been contradictory in recent months, but they can be distilled into two camps: one hoping for a iPhone X-like design, and another expecting a minor refresh.