Xiaomi Unveils Mi 8 Smartphone With iPhone X-Like Notch Design, Vertical Dual-Lens Camera System, and Animated Emoji Features
Chinese technology firm Xiaomi held a product launch event in Shenzhen today and unveiled the Mi 8, a 6.21-inch OLED smartphone that most observers would agree bears more than a passing resemblance to Apple's flagship iPhone X.
Xiaomi's Mi 8 isn't the first recent smartphone to sport an iPhone X-esque notch and probably won't be the last, but there are several other similarities between the two devices that are worth highlighting.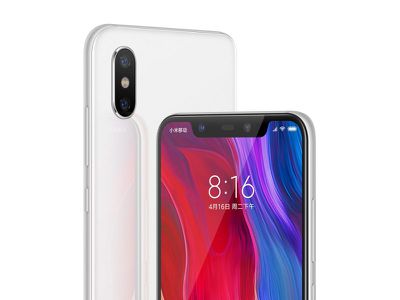 Xiaomi's eighth-anniversary Mi 8 AMOLED smartphone
For example, the cellular signal, battery, and Wi-Fi symbols sit either side of the notch, just like in iOS 11. In addition, the higher-tier Mi 8 model features the Xiaomi equivalent of Animojis as well as facial authentication – two tentpole features of Apple's iPhone X.
Flipping over the Mi 8 reveals a rear dual-lens camera system in vertical orientation, giving the back of the device an appearance that could be easily mistaken for Apple's smartphone.
The naming convention that Xiaomi has chosen for its new phone also arguably takes a page out of Apple's playbook – the Mi 8 follows the company's previous Mi 6 model, jumping a number in order to mark Xiaomi's eighth anniversary in the smartphone business.
Apple's iPhone X, pronounced "ten", skipped the number 9 and adopted the more flashy Roman numeral to reflect its next-generation technology, while also being a nod to the iPhone's tenth anniversary.
In terms of specs, the Mi 8 packs a 20-mexapixel front-facing camera, while the rear dual-lens array features two 12-megapixel cameras. Xiaomi claims the device's onboard dual GPS enhances location accuracy. This is also the first Android smartphone to use Qualcomm's new Snapdragon 845 chipset, which features on-device AI processing and a Gigabit LTE X20 modem.

Xiaomi's eighth-anniversary Mi 8 AMOLED smartphone
The company also announced a premium Explorer version of the Mi 8, which comes with a pressure-sensitive integrated finger scanner and a semi-transparent rear chassis.
Xiaomi's devices, ranging from televisions to tablets, have been publicly criticized in the past for heavily borrowing design elements from Apple's iPhones and iPads and adopting marketing materials tactics similar to Apple's.
In the most recent case just last year, Apple won the right to prevent Xiaomi from registering its "Mi Pad" mobile tablet device as an EU trademark because the name was deemed too similar to Apple's iPad.
The Xiaomi Mi 8 will be available in China beginning June 5, starting at RMB 2699 ($420), with a smaller 5.88-inch sized "SE" model available June 8 and priced from 1799 RMB (or $280). The Mi 8 Explorer Edition is priced at RMB 3699 ($520) and will be available at a later date.
Xiaomi has recently made a push into European markets, so it stands to reason that the company's latest smartphones will make their way over there in the not-too-distant future. Xiaomi hopes to enter into the U.S. smartphone market by the end of the year.