ARKit 2.0 Will Let Two iPhones See the Same Virtual Object
iOS 12, set to be unveiled at the Worldwide Developers Conference on Monday, will include ARKit 2.0, an upgrade to the existing ARKit 1.5 SDK that's available to developers to allow them to build augmented reality experiences in their apps.
ARKit 2.0, according to a new report from Reuters, will include a feature that's designed to let two iPhone users share an augmented reality experience, with the same objects displayed on multiple screens.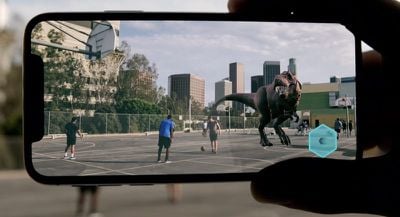 This is in line with previous rumors from Bloomberg that have said Apple is working on both multiplayer augmented reality gameplay and object permanence, which would allow a virtual object to remain in place across multiple app sessions.
Apple is aiming to allow two people to share data so they can see the same virtual object in the same space via each individual device, with Apple designing the feature in a privacy-friendly way.
Apple's multiplayer system, unlike similar offerings from Google, does not require users to share scans of their homes and personal spaces, working via a phone-to-phone system.
Apple designed its two-player system to work phone-to-phone in part because of those privacy concerns, one of the people familiar with the matter said. The approach, which has not been previously reported, differs from Google's, which requires scans of a player's environment to be sent to, and stored in, the cloud.
Full details on how Apple's multiplayer augmented reality system will work are unknown, and it's not yet clear if it works with three or more players. Apple will share more information on the feature on Monday.
Augmented reality has been a major focus for Apple over the course of the last two years, with Apple CEO Tim Cook calling AR "big and profound." "We're high on AR in the long run," Cook said in 2016.
Apple unveiled its first augmented reality product, ARKit, with iOS 11 at WWDC, and has since made improvements to the feature with the launch of ARKit 1.5 in March as part of iOS 11.3. ARKit brought mapping for irregularly shaped surfaces, vertical surface placement, and object and image recognition. With the additional changes coming in iOS 12, developers should be able to do a whole lot more with augmented reality.