Apple Has Reportedly Opened New Engineering Hub Near Portland, Poaching Talent From Nearby Intel
Apple appears to have opened a new engineering hub in Oregon, expanding the company's presence in the Pacific Northwest tech sector.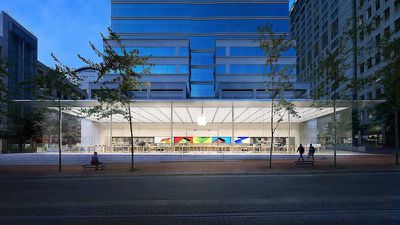 Apple Store at Pioneer Place in Portland
The Oregonian
via
Patently Apple
reports that the offices are located in Washington County, near the border between Beaverton and Hillsboro, in the western suburbs of Portland. The building's exact location has not been disclosed.
Apple has already hired close to two-dozen employees to work at the hub, including a number of people who previously held senior research or engineering roles at chipmaker Intel, according to the report. The information was gathered from job postings, social media profiles, and a person familiar with the matter.
Apple poaching Intel engineers has fueled speculation about its rumored plans to release the first ARM-based MacBook as early as 2020, although it's common for major companies to recruit talent from each other.
Intel's largest concentration of facilities and talent is located in Washington County, with four campuses and approximately 20,000 employees as of the end of 2017. Notably, Intel has CPU design teams based out of Oregon that lead development of processors based on 14nm and 10nm fabrication processes.
MacRumors performed a basic job search on Apple's website and came across listings for hardware engineers with expertise in design verification and validation of Apple's system-on-a-chip designs, like the A11 Fusion chip in the latest iPhones. All of the openings have a listed location of Portland, Oregon.
Apple has existing operations in the region, including a software development team in Vancouver, Washington, a data center site in Prineville, and an advanced computation group in southeast Portland, according to the report.
Apple's presence in the Pacific Northwest extends to Seattle, where it has an artificial intelligence and machine learning hub. The company also continues to lease additional office space near its headquarters in Cupertino, California, while exploring areas for a new campus focused on technical support.