Apple has resumed offering financing options in the United Kingdom after eliminating the option earlier this year. Apple has a new financing page on its UK website, outlining its Barclays financing plan.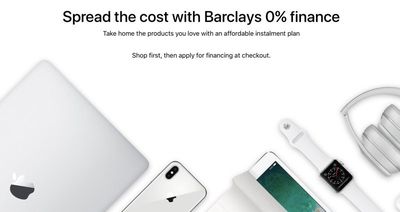 While the financing page specifically focuses on the Barclays financing options, when checking out, customers can choose installment payments through Barclays or PayPal Credit.


To use the Barclays financing option, customers in the UK must make a purchase over £399. There is no interest for the first 12 months, with purchases split into reasonable monthly payments. PayPal Credit is available for purchases over £99, but there is no interest free option.
It is not clear why Apple temporarily stopped offering financing in the United Kingdom, but full financing is now available once again. The company made the same change to financing in Canada in June of 2017, but has not yet reimplemented the financing options in that country.