Microsoft Planning Low-Cost Surface Line to Compete With Apple's $329 iPad
As Apple's iPad and Microsoft's Surface continue to compete in the tablet market, a new report out today by Bloomberg claims that Microsoft is planning its next tablet line to be lower-cost in an effort to attract people to Surface products who aren't interested in the more expensive Surface Pro. The move is directly aimed at competing with Apple's recently launched $329 iPad, and could see Microsoft debut the devices as soon as the second half of 2018.
According to people familiar with the company's plans, the tablets will be priced at around $400, so they would still be more expensive than Apple's cheapest options. They will be the first Surface devices to adopt USB-C and rounded edges "like an iPad," instead of the square corners of the current devices. Storage tiers will include 64GB and 128GB, as well as LTE options, and the devices will feature 10-inch screens.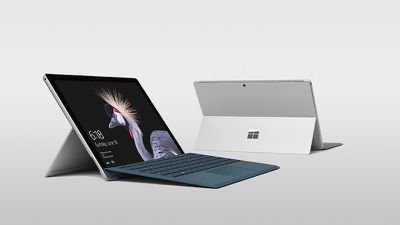 The Surface Pro
In an effort to make the tablets 20 percent lighter than the high-end $799 Surface Pro, Microsoft is believed to sacrifice battery life by as much as "four hours fewer" than the current generation (13.5 hours for Surface Pro). Not much is known about the insides of the upcoming tablets, but the people said that Intel will supply the main processor and graphics chips.
The devices will continue to have the kickstand for upright typing and video watching seen in current Surface models, and they will run Windows 10 Pro. Ultimately, the company is trying to enter the low-cost market again after previous attempts with the Surface RT in 2012 and the Surface 3 in 2015, which both started at $499 and performed poorly in comparison to the growing Surface Pro line.

Microsoft has struggled to find a high-volume hit with the Surface devices as well as to introduce a flow of new choices to keep growth steady. In the fiscal year that ended last June, Surface revenue declined 2 percent as the company faced lower volume sales owing to an aging Surface Pro line. Revenue rose 32 percent in the most recent quarter, indicating new interest in Microsoft's hardware.

Apple sold about 44 million iPads that generated almost $20 billion in revenue during the past four quarters. Microsoft's entire Surface hardware business produced $4.4 billion for the same period.
Microsoft is believed to be looking at Apple's education-focused iPad launch from earlier in 2018, and the new Surface models "could likewise appeal to students and teachers," as well as schools that look into buying cheap tablets in bulk. With the cheaper Surface, the company is planning low-cost updates to its keyboard cover, stylus, and mouse. Prices haven't yet been pinpointed, but as a comparison the current keyboard cover runs for $160.
Apple's low-cost iPad includes Apple Pencil support, an A10 Fusion chip with 64-bit desktop-class architecture, a Retina display, enhanced cameras, and advanced sensors with a gyroscope and accelerometer, which fuel powerful augmented reality apps through ARKit. Although the iPad is normally $329 for consumers when not on sale, Apple sells it at $299 to schools and says that the tablet was built for mobility and durability for students, sporting an aluminum unibody construction.