Adobe today announced the launch of the XD CC Starter plan, which provides users with free access to Adobe's all-in-one UX/UI design platform. Adobe's new XD CC Starter plan offers no-cost usage of Adobe XD for Mac and Windows and mobile apps for iOS and Android to allow users to design, prototype, and share user experiences.
Starter Plan users can create an unlimited number of XD documents, expert assets for production, and create videos. One design prototype and one design spec at a time can be shared, with a paid plan available to enable unlimited sharing.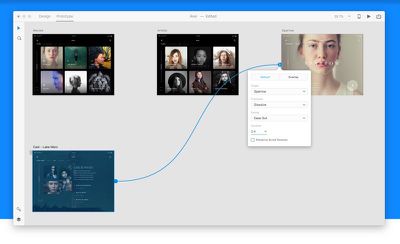 "UX design is one of the fastest growing segments in design," said Scott Belsky, chief product officer and executive vice president, Creative Cloud at Adobe. "The new Starter plan for Adobe XD supports Adobe's vision to give everyone--from emerging artists to enterprise brands--everything they need to design and deliver exceptional digital experiences and explore the rapidly expanding field of UX design with no financial commitment."
In addition to the starter plan, Adobe XD is gaining new features and workflow enhancements including improvements to Sketch and Photoshop CC integrations, password protection for design specs to restrict who can view files, drag and drop options for swapping symbols, and the option to paste to multiple artboards. More information on the improvements can be found in Adobe's blog post covering the update.


In the near future, Adobe plans to roll out advanced prototyping and animation capabilities, new team collaboration features, and new plug-in options.
Adobe is also announcing a new $10 million Adobe Fund for Design, distributed to designers and developers through grants and equity investments. Adobe's am with the fund is to help designers and developers "innovate in the world of experience design" and leverage the Adobe XD platform.
Adobe XD is free as of today and can be downloaded from the Adobe XD website. Existing Adobe XD plans will continue to be available, with the $9.99 Adobe XD Single App plan offering Creative cloud members unlimited shared prototypes and design specs. Customers who subscribe to a Creative Cloud all apps plan have full access to unlimited sharing. More information on XD plans can be found on Adobe's website.