iPhone SE 2 Rumors Remain Conflicted Over Design and Release Date
iPhone SE 2 rumors are running rampant, but there is little consensus about what to expect should the device be real.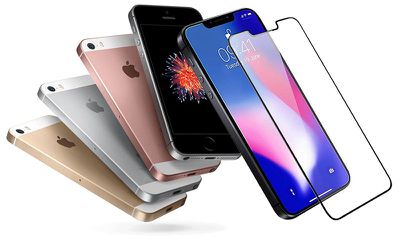 The latest word comes from Japanese blog Mac Otakara, citing Chinese accessory makers who claim production has yet to begin for the second-generation iPhone SE. In fact, Apple is apparently still considering a final design for the device among the several different prototypes it is said to have tested.
The report claims that at least one of those prototypes has an iPhone X-esque design, including a nearly full screen display with no home button and a notch, while other prototypes are believed to have a similar design as the current iPhone SE, except with a glass back, presumably to allow wireless charging.
Ben Geskin recently shared photos of what appears to be iPhone display glass with a shallow cutout resembling the TrueDepth sensor housing on iPhone X, but in a follow-up tweet, he said his "main source" says that the new iPhone SE will have the same design and display as the current model, but with a glass back.
I have to say, that my main source is saying that SE2 will have the same design (and display) as the first SE, but with a glass back. — Ben Geskin (@VenyaGeskin1) May 10, 2018
Meanwhile, MacRumors obtained
renders from case maker Olixar
last week that depicted a new iPhone SE with an iPhone X-esque display, but still with an aluminum, flat-edged frame like the current model and iPhone 5s. Olixar said its renders are based on information obtained from a "reliable source" in China.
The renders suggest the iPhone SE's notch would be approximately half as wide as the one on the iPhone X, likely making it too slim to house facial recognition sensors. One possibility is that the iPhone SE does move to an edge-to-edge design, with a notch, but without any of the Face ID technology.
As we said at the time, however, it's hard to imagine that Apple would include Face ID on the iPhone SE without significantly raising its price, as such a move would likely cannibalize sales of the iPhone X lineup.
And without Touch ID or Face ID, it's unclear how authentication would work on the new iPhone SE. Chinese company Vivo's new X20 Plus UD became the first smartphone with an in-display fingerprint sensor early this year, but Apple seemed to have elected against that approach early on with the iPhone X.
In whatever form it arrives, the accessory makers believe the new iPhone SE is more likely to launch in the third quarter of 2018, suggesting the device could be unveiled alongside a new iPhone X and iPhone X Plus in September. If true, however, Apple has likely already finalized the design of the device.
A handful of earlier reports and regulatory filings had suggested the new iPhone SE could be unveiled in May or at WWDC 2018 in June.
It's unclear how the Chinese accessory makers obtained their information, but they could be confusing one of the prototypes with the rumored 6.1-inch iPhone. That device is expected to have some iPhone X features like Face ID, but lack an OLED display, stainless steel frame, and 3D Touch to achieve a lower price point.
All in all, it's a confusing mess right now. Apple often prototypes several iPhone models, and it could even have some fake versions passing through the supply chain to throw off leakers. But where there's smoke, there's often fire, so specifics aside, it sounds like a new iPhone SE of some kind is in the works.
Apple hasn't truly updated the iPhone SE since it launched in March 2016, beyond doubling its available storage capacities a year later. The device currently starts at $349 in the United States with 32GB of storage.