iPhone's Market Share Grew Slightly Last Quarter Despite a Few Weeks of Galaxy S9 Availability
Apple's share of the worldwide smartphone market grew slightly in the first three months of 2018, despite Samsung launching the Galaxy S9 and Galaxy S9+ in March, according to research firms IDC and Strategy Analytics.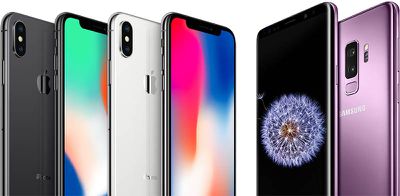 Apple on Tuesday reported that it sold 52.2 million iPhones last quarter. Based on that, the research firms estimate that the iPhone accounted for around 15.5 percent of smartphone shipments during the quarter, a slight increase from 14.7 percent in the year-ago period.
While the single-percentage-point growth is modest, the slight gain becomes more impressive when considering that the Galaxy S9 and Galaxy S9+ launched March 16 in several countries, a full two weeks prior to the quarter ending. Pre-orders of the devices began even earlier on March 2.
Samsung shipped 78.2 million smartphones last quarter, according to the research firms, but its estimated 22.6 to 23.4 percent market share was essentially unchanged from the year-ago quarter, despite the bumped-up Galaxy S9 launch. Last year, the Galaxy S8 and Galaxy S8+ were released April 21.


Samsung continues to lead the smartphone market in shipments, but it sells a variety of handsets at a wide range of price points. Apple typically ships fewer iPhones, but the company captured an estimated 87 percent of smartphone profits in the December quarter, according to research firm Canaccord Genuity.
Apple doesn't disclose iPhone sales on a model-by-model basis, but given iPhone revenue increased 14 percent last quarter despite only a three percent rise in unit sales, the higher-priced iPhone X was likely a big factor.