Samsung Unveils Galaxy S9 Series Smartphones With Dual Lens Variable Aperture Camera and AR Emoji
Samsung on Sunday unveiled its latest Galaxy S9 and S9+ flagship smartphones at the Mobile World Congress in Barcelona, showcasing the handset's new dual-lens camera, stereo speakers, and AR-powered emoji. The new smartphones take the same general design as the Galaxy S8 devices, with slightly slimmer bezels on the top and bottom.
The headline feature of the S9 and S9+ is a 12-megapixel dual lens camera, boasting the first variable aperture system built into a smartphone, which promises better results in low light conditions and hardware-based shallow depth of field effects. Samsung's new photography computation also shoots 12 photos in three groups of four and then combines them at the pixel level to eliminate noise and boost detail.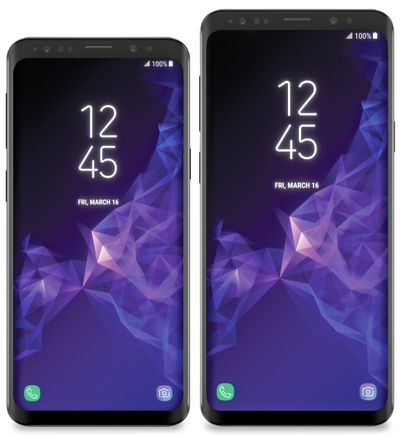 The S9 features variable dual lens 12-megapixel cameras with dual optical image stabilization, while the S9+ features a variable aperture lens paired with a second 12-megapixel lens with a fixed aperture. The S9 Plus also includes a new slow-motion mode that can shoot at 960 frames per second, which can turn a 2-millisecond recording into six seconds of video. For comparison's sake, Apple's iPhone X shoots at a maximum of 240 frames per second.
In U.S. models, the S9 is powered by Qualcomm's Snapdragon 845 processor, but in other regions, including Europe, the smartphone is powered by Samsung's own Exynos chip. Samsung has combined the face and iris recognition features into a new system called Intelligent Scan, which uses the best biometric sensor for the given situation. The fingerprint scanner on the back now sits below the camera module rather than alongside it. Like the S8 devices, the displays on the 5.8-inch and 6.2-inch models are Quad HD+ and Super AMOLED, respectively. Also, there's a headphone jack.
The inevitable comparison of Samsung's new AR-based emoji will be Animoji on iPhone X, which map users' facial expressions onto cartoon facades using Apple's TrueDepth camera technology. However the Galaxy S9 diverges here by creating 3D personalized characters more akin to Bitmoji or Nintendo Mii avatars, which can then be shared as GIFs.
The S9 comes with 4GB of RAM while the S9+ has 6GB of memory. Both versions come with a base 64GB storage (user expandable up to 400GB via the Micro SD slot). In the U.S., the S9 starts at $720, with the S9+ costing $840. Pre-orders for both models begin on March 2 and the phones start shipping on March 16.