Following a legal battle that's been ongoing between Apple and LTE chipmaker Qualcomm since early 2017, the latter company today announced an initiative aimed at defusing tensions with Apple. Specifically, Qualcomm says it will "broaden" its use of a lower-cost licensing model moving forward (via Reuters).
The move is a response to the FTC's original complaint that Qualcomm was engaging in anticompetitive patent licensing practices in order to remain the dominant supplier of LTE chips for smartphones. Soon after the FTC targeted Qualcomm, Apple sued the supplier, stating that Qualcomm "reinforces its dominance" through exclusionary tactics and high patent licensing fees.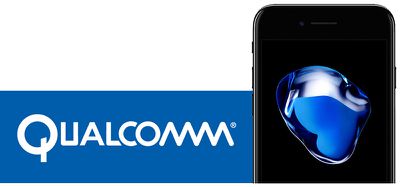 Now, Qualcomm will receive a lower licensing rate when it does business with customers like Apple, Samsung, and Huawei. Qualcomm licensing division head Alex Rogers hopes that this move will eventually resolve its disputes with Apple and one other unnamed company, thought to be Huawei.

"It's a good context for dealing with the two licensee issues we have now," Alex Rogers, the head of Qualcomm's licensing division, told Reuters in an interview, naming Apple but leaving Huawei unnamed as is the company's policy when a dispute hasn't become public through a court proceeding.

Rogers did not comment directly on the likelihood of resolving either customer dispute.
Rogers explains that Qualcomm is doing this by "including more technology" in its licensable patents without raising prices. Before, smartphone makers had the chance to buy two sets of Qualcomm patents, representing a "full suite" or a "standard essential" set. While most customers license both bundles to avoid lawsuits, Qualcomm is aiming to ease tensions by both making it easier for companies to license only the low-cost patent set, and by adding 5G wireless network patents to the sets at no additional cost.

"We have not lowered the rate. What we're doing is including more technology, more (intellectual property) in the offering without increasing the price," Rogers added
While Qualcomm has made its move at finally ending the long legal dispute with Apple, the Cupertino company has not yet responded to the announcement. Rogers says that both the Apple dispute and reportedly Huawei "are essentially now being handled within the framework of the current programme."
Given the legal dispute between the two companies, a rumor in late 2017 suggested Apple is considering eliminating Qualcomm chips from its future devices, instead relying on Intel and MediaTek. More recently, unnamed sources speaking with Fast Company stated that while Intel will supply Apple with a 70 percent majority of LTE chips for the 2018 iPhones, Qualcomm will still be sourced for the remaining supply.