German company brezzl today announced it is now accepting pre-orders for its Cablewings cable management solution for Apple power adapters.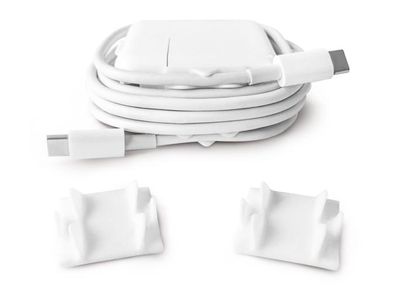 Cablewings
Cablewings are small plastic pieces that attach to an Apple power adapter and have small spikes that can hold a wrapped up power cord. They are compatible with Apple's USB-C power adapters for all 2015 and later MacBook and 2016 and later MacBook Pro models, and they also work with Apple's iPad and iPhone chargers.
The product is inspired by Apple's older Mac power adapters that used to have pop-out cable holders. Apple's latest USB-C power adapters for MacBooks no longer have this feature, as the power cord is no longer affixed to the charger.

Apple's previous Mac power adapters with pop-out cable holders
Cablewings are a simple but useful product, especially for those who travel, and recently received a
2018 Red Dot Design Award
in Germany. They are a rather pricy $18 each or available in a two-pack for $30 in the United States, with prices varying in other countries. Orders are estimated to begin shipping in June.