Apple Officially Discontinues AirPort Wireless Router Lineup [Updated]
Apple has officially ended development on its AirPort line of products, which includes the AirPort Express ($99), the AirPort Extreme ($199), and the AirPort Time Capsule ($299).
"We're discontinuing the Apple AirPort base station products. They will be available through Apple.com, Apple's retail stores and Apple Authorized Resellers while supplies last," an Apple spokesperson told iMore.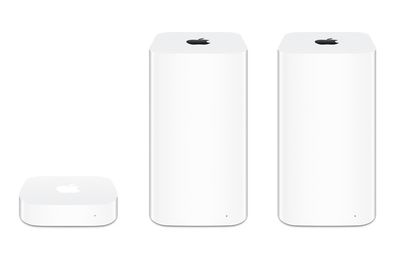 Apple has not updated its AirPort products since 2012 (Express) and 2013 (Extreme and Time Capsule), and in late 2016, Bloomberg said that Apple had stopped development on the AirPort lineup with the AirPort engineers reassigned to other products.
Apple reportedly began shutting down its AirPort unit in early 2016, in an effort to "sharpen" its focus on the "consumer products that generate the bulk of its revenue."
Following news that Apple had shuttered the AirPort unit, the company began selling third-party routers in January of 2018 when it offered the Linksys Velop Mesh Wi-Fi System.
Apple's AirPort base stations provided unique benefits that are not available through third-party options like built-in Time Machine backup support in the Time Capsule and AirPlay functionality for the AirPort Express.
While the AirPort line is being discontinued, Apple will be providing service and parts for current generation AirPort Base Stations for the next five years. iMore says Apple also plans to share some knowledge-base articles in the coming weeks to assist customers who are transitioning away from the AirPort Express, Extreme, and Time Capsule.
Apple plans to continue to sell the three AirPort products online and in its retail stores until available supplies are exhausted. No price drops have been implemented at this time.
Update: Apple has shared a new support document offering tips on choosing a Wi-Fi router to use with Apple devices. The company recommends a router that offerrs 802.11ac, dual-band support, WPA2 Personal encryption, and MIMO or MU-MIMO.