Apple Now Selling Linksys Velop Mesh Wi-Fi System But Will Continue Offering AirPort Line
Apple recently began selling the Linksys Velop Mesh Wi-Fi System both online and in its retail stores, marking the first router the company has offered aside from its own rather outdated AirPort Extreme, AirPort Express, and AirPort Time Capsule.
Apple has not updated the AirPort Time Capsule or the AirPort Extreme since June of 2013, and it's been even longer since the AirPort Express was last updated -- 2012. A late 2016 rumor even suggested Apple had stopped development on its line of AirPort base stations entirely, disbanding its AirPort team and moving engineers to other projects.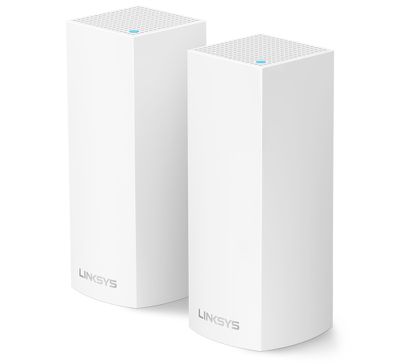 Two Node Linksys Velop System


Though Apple has not updated the AirPort line in years and is now selling a third-party WiFi system, the company appears to be planning to continue to offer AirPort options for the foreseeable future. In a statement provided to 9to5Mac, an Apple spokesperson said the Linksys Velop is an option being provided to people with larger homes alongside the AirPort.
People love our AirPort products and we continue to sell them. Connectivity is important in the home and we are giving customers yet another option that is well suited for larger homes.
While Apple is continuing to offer its AirPort base stations for now, the devices won't last forever sans update. Given Apple's move to sell a third-party Wi-Fi product, it's looking like the company does not have plans to update the lineup going forward.
The AirPort base stations provide several unique benefits that are not available with third-party options like built-in Time Machine backup support in the Time Capsule and AirPlay functionality for the AirPort Express. It's possible Apple has plans to incorporate these features and Wi-Fi networking functionality into a future product, but if so, there are no rumors suggesting that's the case at this point.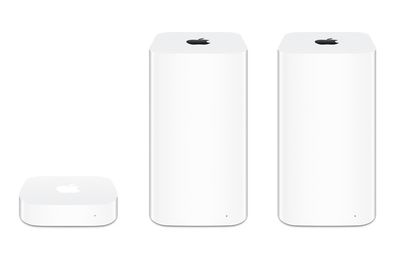 Apple's AirPort lineup


The Linksys Velop that Apple is offering is designed to create a tri-band high-range mesh network able to provide a strong Wi-Fi signal throughout the home, putting an end to areas where Wi-Fi signal is weak. The Velop consists of multiple Nodes used to create an extended Wi-Fi network. Each of the Nodes is able to increase Wi-Fi range by up to 2,000 square feet, and because it increases range wirelessly, there are no wires to deal with.
Apple sells the Velop in two configurations, with either two or three nodes, for $349 or $499.