Apple Celebrates Earth Day With Ziggy Marley Concert, Apple Music Playlists, and $0.99 iTunes Movies Rentals
Today is Earth Day, and around the globe people are celebrating the annual event through demonstrations and gatherings aimed at showing support for the planet and protecting the environment. Apple began celebrations this past week in its retail stores, sending green shirts for its employees to wear and lighting up the Apple logo with a green leaf to mark the April 22 global event.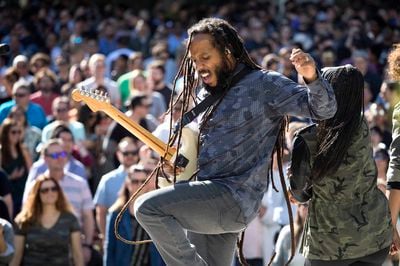 On Friday, April 20, Apple held
one of its annual Beer Bash concerts
with a performance by Ziggy Marley.
In a tweet
, the musician explained that his performance at Apple's campus was his "first set fully powered by solar energy." Marley continued by thanking Apple: "Thank you for the example you set for companies around the world."
Also in attendance during the performance was Lisa Jackson, Apple's vice president of environment, policy, and social issues. In a tweet this morning Jackson reminded Apple Watch users about today's Earth Day Challenge, which requires you to do any workout for 30 minutes or more before the day ends, and record your activity within the Workout watchOS app or any other app that adds workouts to the Health iOS app.
The company is also celebrating Earth Day across its services, with a few themed playlists, iTunes movies, and iBooks getting top-billing today on each respective platform. On Apple Music, you can find the "Mixtape for Mother Earth," which Apple Music editors describe as a soundtrack for Earth Day with songs "inspired by our planet's natural wonders." Artists and songs include Radiohead's "Bloom," The Beatles's "Sun King," Tegan and Sara's "Our Trees," and more, totaling 30 tracks.
While "Mixtape for Mother Earth" is the main playlist currently being promoted on the Browse tab, if you search for "Earth Day" you can also find playlists like "What are Earth's favorite songs?" and other curated collections from previous Earth Day events.
Over on the iTunes Movies store, Apple has a collection of $0.99 rentals for films that all include messages about the environment. The list of just over 40 films has a mix of scripted movies and documentaries, including "FernGully: The Last Rainforest," "Beasts of the Southern Wild," "Fly Away Home," "Blackfish," "March of the Penguins," "An Inconvenient Truth," "A Plastic Ocean," and more. There's also a collection of Disneynature documentaries priced at $9.99, including topics like Oceans, Bears, African Cats, and Monkey Kingdom.


iBooks readers can also get in on the Earth Day celebrations thanks to a "Protect the Planet" section of the Featured tab within Apple's digital books app. The books in the new collection "include meditations on Mother Nature's delightful quirks, rallying cries for biodiversity, and blueprints for how to play a part in passing on a healthier planet." The collection is split up into three sub categories called "Explore the Natural World," "Get Informed & Inspired," and "Do Your Part." Books include "Unstoppable" by Bill Nye and Corey S. Powell, "Voices in the Ocean" by Susan Casey, and "A Hole in the Wind" by David Goodrich.
Earlier this month, Apple announced that its global facilities, including retail stores, offices, data centers, and more, are powered with 100 percent clean energy. Apple went into further detail about how it has lessened its overall environmental impact with the 2018 Environmental Responsibility Report, sharing stats about its reduced greenhouse gas emissions, lowered energy footprint, and more. The company also updated its trade-in and recycling initiatives into a new "GiveBack" program, and introduced a new iPhone disassembly robot named Daisy.