Apple Retail Store Logos Gain Green Leaves in Celebration of Earth Day
In celebration of Earth Day, which takes place on Sunday, April 22, Apple has started tweaking the logos of some of its retail stores with green leaf accents, in a departure from the usual uniformly white design.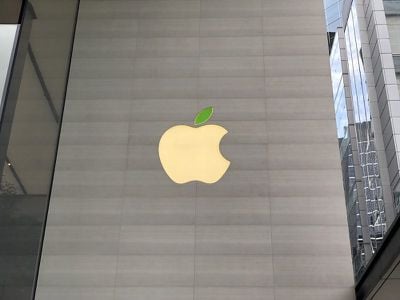 Apple Orchard Road Store, Singapore (Images courtesy of Stanford Chong)
For example, Singapore's Apple Orchard Road store has already been updated with the green logo, as Apple gears up for its annual Earth Day celebrations at multiple retail locations around the world.
In typical fashion, Apple store staff are also encouraged to wear green shirts instead of their usual blue ones to promote the event. Apple may also be planning to hold a special Earth Day celebratory event at its Cupertino headquarters, as it has done in the past.


Apple often uses Earth Day as a way to highlight its environmental efforts and reaffirm its commitment to recycling, renewable energy, and other initiatives. This year it is explicitly tying the event to its new GiveBack trade-in program, which offers customers credit and/or free recycling on old Apple devices, as well as a donation to Conservation International.
On Thursday, Apple published its environmental report outlining all of the improvements and changes that were implemented throughout 2017 and early 2018 to lessen the company's overall environmental impact.
In addition, Apple shared details on initiatives that support its goal of making its products using only recycled or renewable materials, and introduced a new iPhone disassembly robot named Daisy – an improved version of Liam, its first disassembly robot launched in 2016.
Also on Thursday, Apple Watch owners received a notification about an Earth Day activity challenge. If previous years are anything to go by, customers can expect more Earth Day-related goings-on from Apple over the coming days.
(Thanks, Stanford!)