(PRODUCT)RED iPhone 8 and iPhone 8 Plus Now Available for In-Store Pickup at Apple Retail Stores
On Monday, Apple introduced new (PRODUCT)RED models of the iPhone 8 and iPhone 8 Plus, which went up for pre-order on Tuesday and are available to purchase in Apple Stores as of today. Since it's an Apple product launch day, customers interested in the new iPhone 8 color can visit Apple.com to check stock at their local Apple stores and arrange for an in-store pickup on the smartphone.
Apple's iPhone availability tool shows that the new (PRODUCT)RED iPhone 8 and iPhone 8 Plus devices should be easy to obtain today at most Apple stores across the United States and in other countries, in both 64GB and 256GB. Those who don't feel like picking up at an Apple store, or who don't live nearby one, can also choose to have the iPhone delivered via free next day shipping.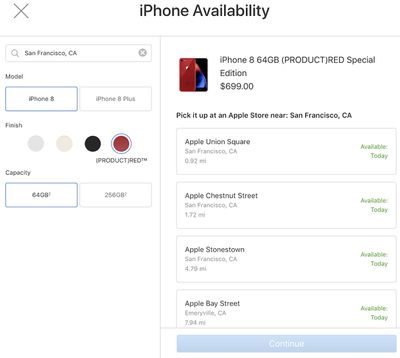 The unlocked/SIM-free prices of each new model can be found below:
iPhone 8 / 64GB: $699
iPhone 8 / 256GB: $849
iPhone 8 Plus / 64GB: $799
iPhone 8 Plus / 256GB: $949
The (PRODUCT)RED iPhone 8 has all of the same internals and hardware as the models that launched last September, including a glass body for wireless charging, A11 processor, True Tone display, and more. In the box, you'll get EarPods with a Lightning Connector, Lightning to USB cable, 5W USB power adapter, and a Lightning to 3.5mm headphone jack adapter.
The new iPhone 8 models are available in stores as of today in the U.S., U.K., Australia, Canada, China, France, Germany, Hong Kong, Japan, New Zealand, and Singapore. Later this month, the devices will arrive in Brazil, Denmark, Ireland, Italy, Malaysia, Mexico, Netherlands, Norway, Russia, Saudi Arabia, South Korea, Spain, Sweden, Switzerland, Taiwan, Thailand, UAE, and other countries. Chile, Colombia, India, Israel, and Turkey will follow in May.


Alongside the new iPhone 8, Apple also launched a (PRODUCT)RED iPhone X Leather Folio at $99. As with every (PRODUCT)RED accessory and device, the iPhone 8 and iPhone X Leather Folio are part of Apple's partnership with (RED), which helps raise money for The Global Fund in its fight against HIV/AIDS.