Total Number of App Store Apps Shrank in 2017 Thanks to Apple's Quality Crackdown
The number of apps available in the App Store shrank for the first time ever in 2017, according to data shared today by App Store analytics company Appfigures (via TechCrunch).
At the end of 2017, there were 2.1 million iOS apps available in the App Store, compared to 2.2 million apps at the beginning of the year.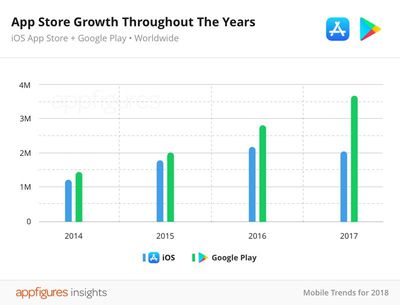 Starting in September of 2016, Apple told developers it would be removing old, outdated apps that had not been updated with compatibility for more recent devices or no longer complied with current review guidelines.
Apple also created new App Store guidelines limiting apps created from commercialized templates or app generation services, and officially banned virus scanning apps, plus it cracked down on clone and spam apps, all of which contributed to the company's App Store cleanup efforts.
Changes in iOS 11 may have had the biggest impact on the available number of apps in the App Store, though. With iOS 11, Apple stopped supporting 32-bit apps, which the company began phasing out in 2013. 32-bit apps do not open on devices running iOS 11, nor can older 32-bit apps be found in the App Store.
Since 2015, Apple has required all apps and app updates to use 64-bit architecture, so apps that became defunct with iOS 11 had not been updated in at least two years.
Appfigures says that the decrease in apps can also be attributed to a dip in the number of new apps submitted by developers in 2017. Just 755,000 new apps were added to the App Store in 2017, down 29 percent from the previous year. This too could be attributed to Apple's more restrictive App Store policies cutting down on low-quality apps.


While the number of App Store apps has declined due to Apple's efforts to make sure apps in the App Store are prioritizing quality, Google Play growth has accelerated. In 2017, Google Play reached 3.6 million available apps, a growth of 30 percent. Android developers released 1.5 million new apps in 2017, up 17 percent.