Apple Shares Recommended Graphics Cards and Chassis in New eGPU Support Document for macOS High Sierra 10.13.4
macOS 10.13.4, released to the public yesterday afternoon, introduces official support for eGPUs (external graphics processors) on Thunderbolt 3 Macs. Alongside the release, Apple has published a detailed support document that outlines how eGPU support works and provides graphic card and chassis recommendations for use with your Mac.
One or more eGPUs can be used with the 2016 MacBook Pro and later, the 2017 iMac and later, and the iMac Pro, so long as macOS High Sierra 10.13.4 is installed. Apple has added eGPU support for graphic-intensive operations like using VR headsets, 3D gaming, and developing VR apps.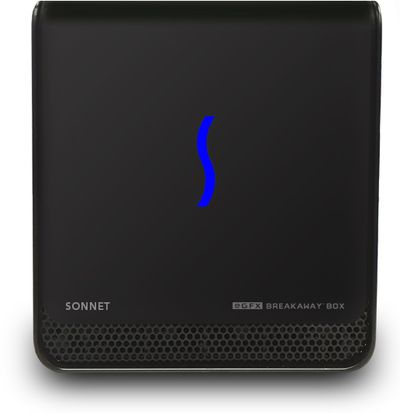 Apple's support document outlines all supported eGPU configurations, with Apple recommending only AMD Radeon cards. There are no supported Nvidia cards.
It's also worth noting that Apple has eliminated support for some cards that were supported during the beta, such as the AMD RX 560.
It's important to use an eGPU with a recommended graphics card and Thunderbolt 3 chassis. And if you're using a MacBook Pro, the eGPU's Thunderbolt 3 chassis needs to provide sufficient power to run the graphics card while charging the computer.
Apple recommends AMD Polaris, Vega 56, and Vega 64 graphics cards, paired with a specific Thunderbolt 3 chassis. For the AMD Radeon RX 570, RX 580, and Radeon Pro WX 7100 cards (of which Apple recommends the Sapphire Pulse series and the AMD WX series), Apple recommends the following Thunderbolt 3 chassis:
OWC Mercury Helios FX3
PowerColor Devil Box
Sapphire Gear Box
Sonnet eGFX Breakaway Box 350W
Sonnet eGFX Breakaway Box 550W
Sonnet eGFX Breakaway Box 650W
For the AMD Radeon RX Vega 56 cards, Apple recommends the Sapphire Vega 56 and the XFX Vega 56 with the OWC Mercury Helios FX, PowerColor Devil Box, Sonnet eGFX Breakaway Box 550W, or Sonnet eGFX Breakaway Box 650W.
The Sonnet eGFX Breakaway Box 650W is the only chassis recommended for AMD Radeon RX Vega 64, Vega Frontier Edition Air, and Radeon Pro WX 9100 graphics cards, while the only recommended all-in-one eGPU product is the Sonnet Radeon RX 570 eGFX Breakaway Puck.
For the MacBook Pro, eGPUs and accompanying TB3 chassis must be able to provide sufficient power to run the graphics card while also charging the computer. In the case of the 15-inch model, that means the chassis needs to support at least 85W of charging power.
Apple says eGPU support has been designed to accelerate Metal, OpenGL, and OpenCL apps that benefit from more graphics power, and not all apps will support eGPU acceleration. Apple says eGPUs will work with most of the following types of apps:
Pro applications designed to utilize multiple GPUs
3D games, when an external monitor is attached directly to the eGPU
VR applications, when the VR headset is attached directly to the eGPU
Pro applications and 3D games that accelerate the built-in display of an iMac or MacBook Pro. (This capability must be enabled by the application's developer.)
Multiple eGPUs can be used together, but Apple recommends users connect eGPUs directly to the Mac instead of daisy-chaining them through another Thunderbolt device or hub.
macOS High Sierra 10.13.4 does not support eGPUs in Windows using Boot Camp, when the Mac is in macOS Recovery, or when system updates are being installed.