Apple Plans $350 Billion Boost to U.S. Economy Over 5 Years, 20,000 New Jobs, and a New Campus [Updated]
Apple today highlighted its plan to to bolster the U.S. economy through job creation, existing investments, and new investments, with the company on target to contribute $55 billion to the economy in 2018 and $350 billion over the course of the next five years.
Along with its $350 billion contribution through direct employment, investment with domestic suppliers, and the App Store economy, Apple will increase its Advanced Manufacturing Fund from $1 billion to $5 billion.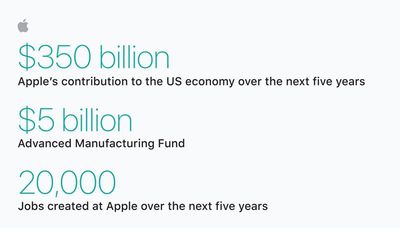 The Advanced Manufacturing Fund is designed to create jobs in the United States through investments in Apple suppliers. Apple has already invested $200 million in Corning, maker of Gorilla Glass, and $390 million in Finisar, a supplier that makes vertical-cavity surface-emitting laser (VCSEL) components found in the iPhone X's TrueDepth camera.
"Apple is a success story that could only have happened in America, and we are proud to build on our long history of support for the US economy," said Tim Cook, Apple's CEO. "We believe deeply in the power of American ingenuity, and we are focusing our investments in areas where we can have a direct impact on job creation and job preparedness. We have a deep sense of responsibility to give back to our country and the people who help make our success possible."
Apple plans to repatriate much of its overseas profits and expects to pay taxes of $38 billion when doing so, which Apple says is likely to be the largest payment of this kind ever made. That tax payment, combined with its U.S. investments and planned capital expenditures, will account for $75 billion of its projected $350 billion contribution.
Apple will be paying 15.5 percent in taxes to repatriate its overseas cash, suggesting the company plans to repatriate approximately $245 billion, or nearly all of its foreign money.
Apple will create 20,000 new jobs and spend $30 billion hiring new employees at its existing campus and opening a new campus. Apple has a new campus in the works that will "initially house technical support for customers." Its location will be announced later in the year.
More than $10 billion of Apple's planned capital expenditures will be investments in data centers across the United States, with Apple breaking ground on a new facility in Reno, Nevada starting today.
Apple's final plan to bolster the economy is through education. The company will expand its current coding initiatives that are designed to help people learn how to create iOS apps using Swift and it will increase funding for ConnectED to help students in "historically underserved communities" learn coding skills.
Update: Apple today also told employees that it will issue a bonus of $2,500 worth of restricted stock units following the introduction of the new U.S. tax law. Stock grants will be issued to most employees below a director level worldwide "in the coming months."
Apple also plans to offer a new charitable donation program that will see the company matching all employee charitable donations to up to $10,000 annually at a rate of two to one. Apple will also double the amount it matches for each hour of time an employee donates to a charity.
Full details on both Apple's new stock bonus and its donation policy were shared in an email to employees, which has been published by Axios.
Note: Due to the political nature of the discussion regarding this topic, the discussion thread is located in our Politics, Religion, Social Issues forum. All forum members and site visitors are welcome to read and follow the thread, but posting is limited to forum members with at least 100 posts.