Xiaomi Takes on iPhone X With New Mi Mix 2S Smartphone Featuring Dual Camera System and Wireless Charging
Xiaomi unveiled its new Mi Mix 2S smartphone at a packed auditorium in Shanghai today, claiming that the handset surpasses iPhone X in several departments while only being half the price of Apple's flagship device.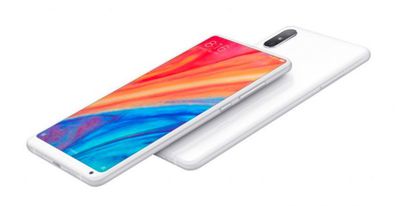 From the front, the maximum screen, minimal bezel design of the 5.9-inch phone looks almost identical to the Mix Mix 2 announced barely six months ago, but there are some changes to the rear, and the handset includes a number of internal updates, including support for Qi wireless charging, but it still lacks rated water resistance.
Like the original Mix Mix 2, a slim bezel below the device's full HD LCD display houses a 5-megapixel front-facing camera in the right corner, which allows Xiaomi to avoid an iPhone X-esque notch area up top. Meanwhile, the ceramic back panel is home to a fingerprint sensor and a new 12-megapixel dual camera system consisting of a telephoto lens and a wide-angle lens, with portrait mode features and optical image stabilization.


At one point during the event, Xiaomi CEO Lei Jun compared the iPhone X and Mi Mix 2S cameras side-by-side to demonstrate how much faster the Mix 2S can focus and capture subjects in shot, owing to the phone's advanced dual-pixel autofocus. Lei Jun noted that the phone has picked up a DxOMark photo score of 101, with an overall score of 97 – the same as the iPhone X – and claimed that the camera can detect up to 216 scenes and translate text or convert currencies in real-time, thanks to its AI-powered capabilities.
Internally, the phone sports a new, more energy-efficient Qualcomm Snapdragon 845 processor, coupled with either 6GB or 8GB of memory, along with the same 3,400mAh battery as the earlier model, a mono speaker, and no headphone jack.
The Mix 2S will come in 64, 128, or 256GB of storage capacities, and is available in black or silver, both starting at 3,299 yuan (about $526) for the base model, and rising to 3,999 yuan (about $640) for the top-spec device which includes a 7.5W fast-charging wireless pad. The Android 8.0 Oreo-running handset will be available to buy in China from next week, before rolling out to Xiaomi's other established markets, which presumably precludes it from launching in the U.S. for the foreseeable future. However, the phone does support all global 4G LTE networks out of the box.