New 9.7-Inch iPad Hands-On: 'Very Familiar' Update Benefits From Apple Pencil Support and A10 Fusion Chip
Following the announcement and launch of Apple's new 9.7-inch iPad, a few websites have gotten hands-on time with the tablet and shared their thoughts online this afternoon. The initial consensus appears to be that while the iPad isn't very surprising in terms of form factor and features, it's a solid entry-level model that benefits from added Apple Pencil support.
Engadget said the new iPad is "as fluid and fast as the iPad Pro," which it described as an "impressive feat." The site said the iPad has a great screen, although it isn't as sharp as the iPad Pro's display. Engadget also pointed out the air gap between the display and cover glass on the new tablet, and its lack of the higher-end iPad Pro's True Tone color correction feature and 120Hz ProMotion refresh rate.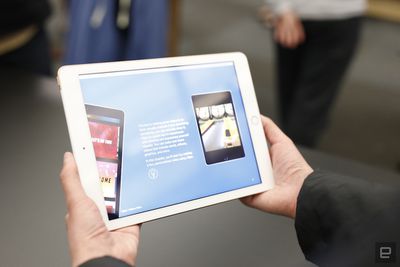 Image via Engadget
Following today's education-focused presentation in Chicago, we got a chance to pick up the new tablet for ourselves and, well, it's just about the same as last year's model. That's not a bad thing -- it still feels as solid and well-built as ever. The biggest change is Apple Pencil support, and after a brief test it feels almost as fluid and fast as the iPad Pro, which is an impressive feat.
The Verge began its hands-on coverage by stating the new iPad is "very familiar," with all of the expected screen size, bezels, Touch ID sensor, button placement, and cameras users have come to expect from Apple's tablet line. The Verge said the display was "vibrant and responsive," and the site got to mess around with an AR demo, which was "as good as any AR demo" it has seen.

Image via The Verge
The Verge
also pointed out that Apple's demo area was not really "focused on the hardware," but instead software demos that showed real-world use in the classroom, with Tim Cook walking around and discussing the new announcement with reporters.
We just spent some time with Apple's new $329 iPad, announced here in Chicago at its education event. It's... an iPad. Holding and using an iPad, it feels very much like an iPad! The air gap on the screen is the same as before — large by iPad Pro standards, but only iPad Pro people will really turn their nose up at it. Same goes for the screen overall, which doesn't have all the True Tone magic of the Pro, but is nevertheless vibrant and responsive.

I checked out a quick demo of an AR classroom app and was as good as any AR demo I've seen. Not knock-your-socks-off good, but it didn't lag and the baby elephant stayed put right on the table where it was placed. Obviously we'll need to spend more time to say for sure, but the A10 Fusion processor certainly seems up to most tasks.
Besides the new iPad, Apple today announced that its Classroom app will be coming to Mac this June, revealed a new "Schoolwork" app, showed off iWork updates for iOS, and more. New accessories and devices have also emerged on Apple.com following the Field Trip keynote, including standalone Space Gray color options for the Magic Keyboard, Magic Mouse 2, and Magic Trackpad 2.