Apple Announces 'Classroom' Coming to Mac, Reveals New 'Schoolwork' App for Educators
Apple during its education-focused event in Chicago today announced that its existing iOS "Classroom" app will be making the move to Mac, beginning with a beta this June.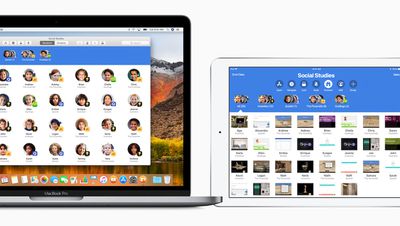 Classroom is a "teaching assistant" that helps teachers manage their students' iPads, as well as guide kids through lessons, keep them on track, and share their work. Using the app, teachers can launch apps, books, and websites on all student devices simultaneously, and send or receive documents. Classroom also allows teachers to view their students' screens so that they "stay focused," and other administrative options like password resets.


At the same time, the company revealed a new cloud-based app called "Schoolwork" that lets teachers assign handouts and track the progress of their students. Apple said that Schoolwork "builds on the success" of the Classroom app and both apps will be combined to help educators "get the most out of integrating Apple technology into schools."

"Creativity sparks a deeper level of engagement in students, and we're excited to help teachers bring out that creativity in the classroom," said Philip Schiller, Apple's senior vice president of Worldwide Marketing.

"When you combine the power of iPad, the creativity of Apple Pencil, over a million iPad apps in the App Store, the rich curriculum in Everyone Can Code and Everyone Can Create, and unique Classroom and Schoolwork apps that support students and help schools manage technology in the classroom, we believe we can amplify learning and creativity in a way that only Apple can."
Using Schoolwork, teachers will be able to make handouts that include PDFs, links, and other documents, as well as check in on the progress of every student for a specific assignment. Schoolwork will integrate with third-party apps using Apple's ClassKit API, acting as a hub of sorts for a classroom's projects and assignments. Schoolwork will be available for teachers in June.
There will also be a new "Apple Teacher" professional learning program available online, aimed at helping teachers build skills, chart their progress, and get inspired to launch new lesson plans. The program will allow teachers to earn badges shaped like gold stars, encouraging them to continue using the program and evolve their classroom.