Quick Takes: Smartwatches to Have More Than Just 15 Minutes of Fame as GymKit Rollout Continues
In addition to our standalone articles covering the latest Apple news and rumors at MacRumors, this Quick Takes column provides a bite-sized recap of other headlines about Apple and its competitors on weekdays.

Tuesday, March 20
Highlights
1. IDC forecasts that smartwatch shipments will nearly double within four years: IDC believes smartwatches will account for almost two out of every five wearable devices shipped in 2022, with an estimated 84.1 million shipments that year, compared to an estimated 43.6 million units in 2018.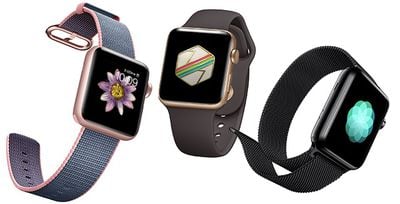 Commentary: Apple Watch is the world's most popular smartwatch by a significant margin, having outsold all competing smartwatches combined in 2017, and there's no sign that momentum will slow down.
2. Stack Overflow releases the results of its 2018 developer survey: The results, based on over 100,000 respondents from around the world, outline this year's most loved, dreaded, and wanted technologies and platforms, how developers around the world code, learn, live, and work, and more.
Apple-related highlights:
26.7 percent of developers said macOS is their primary operating system for work, versus 49.9 percent for Windows

iOS was the most loved mobile operating system for development, with 64.6 percent of respondents expressing interest in continuing to develop for the platform, versus 63.8 percent for Android

Developers using Apple's open source Swift programming language earned a median salary of $57,000 in the United States, versus a leading $74,000 for programming language F#

3. Introducing IBM Watson Services for Core ML: The service enables corporate developers to build iPhone and iPad apps that leverage IBM Watson models via Apple's Core ML framework. Apple says these apps can quickly analyze images, accurately classify visual content, and easily train models.


Commentary: This service is an expansion of a four-year-old enterprise partnership between Apple and IBM that has led to over 100 new business apps tailored to industries such as healthcare, finance, and transportation.

Other Links
For more Apple news and rumors coverage, visit our Front Page, Mac Blog, and iOS Blog. Also visit our forums to join in the discussion.