Samsung's Galaxy S10 Rumored to Feature 3D Facial Recognition Like Face ID on iPhone X
Israeli startup Mantis Vision is reportedly working with camera module firm Namuga to develop 3D sensing camera solutions for Samsung's tentatively named Galaxy S10, according to Korean news outlet The Bell.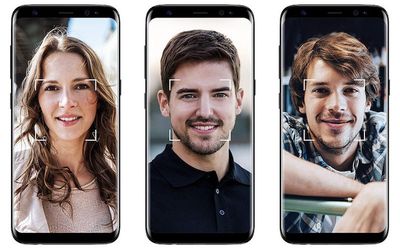 The technology would pave the way for Samsung to implement a 3D facial recognition system on the Galaxy S10, similar to Face ID on the iPhone X. The new Galaxy S9 and Galaxy S9 Plus, which officially launch tomorrow, still rely on a less secure 2D facial recognition system paired with an iris scanner.
Last year, videos surfaced that showed the same 2D solution on the Galaxy S8 could be unlocked by waving a photo of the registered user's face in front of the camera. Samsung even confirmed that its facial recognition solution cannot be used to authenticate access to Samsung Pay or its Secure Folder feature.
By comparison, Face ID uses a structured-light technique that projects a pattern of 30,000 laser dots onto a user's face and measures the distortion to generate an accurate 3D image for authentication. Face ID has been duped with sophisticated masks, but not with a simple photo of a person.
KGI Securities analyst Ming-Chi Kuo recently opined that it would take Android smartphone makers up to two and a half years to catch up with Face ID. Apple released the iPhone X last November, while the Galaxy S10 will likely be released around March or April of 2019, a roughly one-and-a-half year span.
It's a given that Samsung will catch up with Face ID at some point, but it remains to be seen if its 3D facial recognition system can match the iPhone X's user experience. Around this time next year, we should find out.