Workflow, the automation app that Apple acquired back in March of 2017, was today updated to version 1.7.8, introducing a new Mask Image action, and a long list of other bug fixes and improvements.
As MacStories points out, the Mask Image action added in today's update is a feature Workflow users have been wanting for several years. The new action, which applies a mask to an image and cuts it into any desired shape, is designed to make it easier to simplify image editing workflows that require image masking features.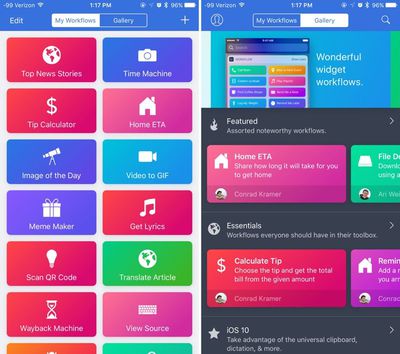 By default, the masking feature offers rounded rectangle, ellipse, and icon masking options, but custom masks can also be used.
The new Workflow update also introduces new fields for the Add Things To-Do action, it makes items reorderable in the dictionary action, and it adds support for opening workflows to the URL scheme. Extracting text from PDFs has also been improved, as has drag and drop handling. Multiple bug fixes are included, as outlined before:
Workflow names are now case-insensitive
Fixed a crash when running the Edit Image action
Fixed Todoist and Slack authentication when using a Google account
Fixed an issue where icons from Search App Store and Get My Workflows were saved as JPEG, not PNG
Fixed an issue where the Encode Media action may not delete temporary files properly when encoding to MP3
Fixed an issue where the Custom X-Success URL parameter of the Open X-Callback-URL action did not work
Fixed an issue where variables could not be added to arrays in the Dictionary action
Fixed an issue where booleans could not be added to dictionaries inside dictionaries in the Dictionary action
Fixed an issue where a duplicate workflow could appear after searching for a workflow
Fixed an issue where Workflow could crash when deleting many workflows at once
Fixed an issue where double-tapping a variable button cleared the variable
Fixed an issue where the Tweet and Post on Facebook actions did not work from the Today Widget or Apple Watch
Fixed an issue where passing the output of Scan QR Code to Open URL did not work properly
Fixed an issue where workflows could not be edited after being opened via 3D Touch
Performance improvements to workflow running
VoiceOver improvements
Other bug fixes and minor additions
Since purchasing Workflow in March of 2017, Apple has continued to provide regular updates to the Workflow app, allaying fears that it would be discontinued and abandoned.
The last update to the app, introduced a long list of bug fixes for third-party app actions, was released in November of 2017.
Workflow can be downloaded from the App Store for free. [Direct Link]