Workflow, the automation app that Apple purchased back in March of this year, was today updated to version 1.7.5, introducing a long list of bug fixes.
There are fixes for a range of third-party apps like Trello, Google, Dropbox, and Evernote, along with updates to address issues in iOS 11. For example, Open In, Post to Instagram, Create Note, and Save with Transmit were all actions that were broken in the iOS 11 beta, but have now been fixed.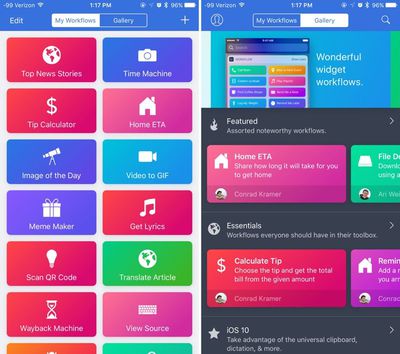 A full list of the bugs and issues that have been fixed in the update can be found on the Workflow website.
For those unfamiliar with Workflow, it's an automation tool that can essentially do anything. It allows users to create workflows to accomplish tasks like creating GIFs from a series of photos, pulling images from a web page, translating an article, posting photos to multiple social networks at once, calculating a tip, and more.
Since Apple acquired the app, it has been free to download. Regular improvements have been introduced, including bug fixes and new actions.
Workflow can be downloaded from the App Store for free. [Direct Link]