Apple's first store in Austria is set to open on Saturday, February 24, and ahead of the store's official launch date, Apple has shared some photos that showcase the new location.
Apple Kärntner Straße is located on Vienna's Golden Quarter, in the famous pedestrian shopping street between St Stephens Cathedral and the Vienna State Opera. The two-level store features a corner entrance and reinstated exposed columns with large window openings that seamlessly connect it to the public gathering space outside.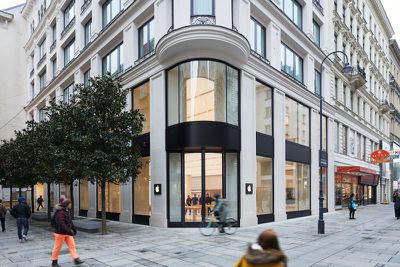 "We can't wait to join the bustling city of Vienna, a European crossroads so rich in history and culture," said Angela Ahrendts, Apple's senior vice president of Retail. "Apple Kärntner Straße brings the best of Apple together with our products, services and educational programs. Everyone is welcome to connect, be inspired to learn, and unlock their creativity."
Like all Apple stores, Apple Kärntner Straße will offer customers free "Today at Apple" sessions – daily workshops focusing on photography, coding and app development, music, art and design, and more. Each session is hosted in an area of the store called The Forum that boasts a dynamic 6K video wall, recreating the same layout found in many of the company's retail stores around the world.
Apple says the store will include its entire line of products, while new owners can get help customizing their iPhone, iPad, Apple Watch or Mac from the store team of 150 employees, which together speak 44 languages.


So long as no additional stores open between now and Saturday, Apple Kärntner Straße is likely to be Apple's 501st retail store. Apple currently has 500 retail stores around the world, not counting Apple Watch boutiques and factoring in the two store closures in Simi Valley, California and Sapporo, Japan.
Apple began posting job listings for Austria's first Apple store in February of 2017 and announced its opening plans late last month. Apple Kärntner Straße will open up at 9:30 a.m. local time, and Apple is already accepting Genius Bar appointments and Today at Apple signups.