Apple will open a retail store in the Austrian capital of Vienna on Saturday, February 24 according to a new webpage for the store published recently on Apple's site.
The new three-story Vienna Apple Store is located on Kärntner Straße, a famous shopping street in central Vienna, and for the last several months, Apple has been renovating the location.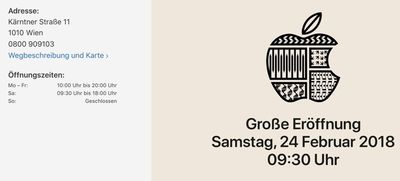 Kärntner Straße is near Stephansplatz, a square located at the center of Vienna that's home to the Stephansdom cathedral, which is known as one of the tallest churches in the world. The street is home to dozens of well-known retailers, like H&M, Forever 21, Zara, and more.
Apple's building is located on a corner and has been outfitted with modern-looking glass panels that replace the former metalwork that was in place. The Vienna location will adopt the new store layout that's been rolling out around the world, with dedicated areas that include the Genius Grove, The Forum, and The Avenue, aka various parts of the store dedicated to support, classes, and shopping.
Rumors of a new Apple Store in Vienna first began circulating in August of 2016, when it was reported that Apple was close to inking a deal for a flagship retail property that was formerly occupied by fashion company Esprit. Apple began posting job listings for the store a year ago in February of 2017.
Ahead of the store's opening on February 24 at 9:30 a.m. local time, Apple will allow customers to make Genius Bar appointments and sign up for Today at Apple classes.
(Thanks, Michael!)