Apple Releases Third Beta of iOS 11.3 for Public Beta Testers
Apple today released the third public beta of an upcoming iOS 11.3 update for its public beta testing group, one day after seeding the third beta to developers and two weeks after releasing the second public beta.
Beta testers who are members of Apple's beta testing program will receive the new iOS 11.3 beta update over-the-air after installing the proper certificate on an iOS device.
Those who want to join the beta testing program can sign up on Apple's beta testing website, which gives users access to iOS, macOS, and tvOS betas. iOS betas are not always stable and should not be installed on a primary device.
The third betas of iOS 11.3 and tvOS 11.3
remove AirPlay 2 features
that were
present in earlier betas
. Prior to today's update, AirPlay 2 functionality allowed the Apple TV to be added to the Home app on an iOS device, and it enabled multi-room audio playback across multiple Apple TVs. These features are no longer available and it is not clear if they will be re-enabled in a later beta ahead of the launch of iOS 11.3.
iOS 11.3 is a significant update that introduces multiple new features like Messages on iCloud for storing your iMessages in iCloud, and ARKit 1.5, a new, upgraded version of ARKit that can more accurately map irregularly shaped surfaces, detect images, and recognize and place virtual objects on vertical surfaces like walls.
Four new Animoji (lion, skull, dragon, and bear) are available for the iPhone X, the Health app has a new Health Records feature where you can store your medical records, and as of iOS 11.3 beta 2, the update includes a new "Battery Health" option that's designed to provide iOS users with more information about their batteries.
Battery Health offers details on maximum battery capacity and peak performance capability, and for devices with degraded batteries, it provides information on if and when a device is being throttled with performance management features. It also provides a way for customers who do have a device with a degraded battery to turn off performance management all together.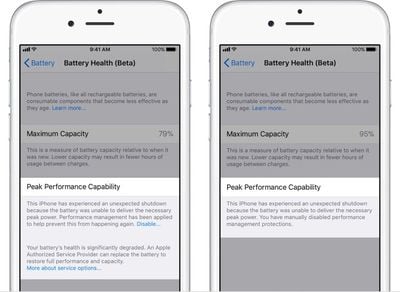 By default, iOS 11.3 disables performance management on the iPhone, and the feature is only re-enabled once a device experiences an unexpected shutdown.
Other new features in iOS 11.3 include an Apple News "For You" section that displays the top videos of the day, info on version and download size for app updates in the Purchased tab of the App Store, Advanced Mobile Location (AML) for sharing more accurate location data when placing an emergency call in a supported country, and a new Privacy icon that will show up whenever Apple asks you for info. iBooks has also had the "i" removed from its name, so it's just "Books" now, and in the App Store, you can sort app reviews by rating and date for the first time.
Business Chat, which will let you interface with businesses like Wells Fargo, Delta, Hilton and Lowe's right in the Messages app is coming when iOS 11.3 is released, and improvements to Apple Music will bring better support for music videos.
Apple says iOS 11.3 will be released to the public in the spring.