MacBook Lineup Represented Estimated 1 in 10 Notebooks Shipped Worldwide Last Year
Apple's lineup of MacBook, MacBook Air, and MacBook Pro models accounted for roughly one in ten notebooks shipped worldwide last year, according to data published today by research firm TrendForce.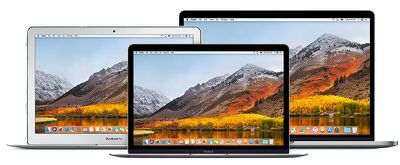 TrendForce claims that Apple surpassed ASUS to become the world's fourth largest notebook vendor, with an estimated 9.6 percent market share in 2017, up from 8.3 percent in 2016. ASUS saw its market share drop to an estimated 9.5 percent last year, down from a reported 10.3 percent in 2016.
The research firm says Apple releasing updated MacBook Pro models in June 2017 helped the company expand its shipments by 18 percent for the whole year—supposedly the highest growth rate among all notebook brands.
TrendForce estimates notebook shipments from all brands totaled 164.7 million units worldwide, a year-on-year increase of 2.1 percent. Windows PC makers HP, Lenovo, and Dell led the industry with estimated 24.3 percent, 20.2 percent, and 15.2 percent market shares respectively in 2017.


It's important to note that Apple doesn't break down its Mac sales on a model-by-model basis in its earnings reports, so TrendForce's data is estimated, likely based in part on the average selling price of a Mac.
Another caveat is that PC makers like HP, Lenovo, and Dell sell a wide variety of notebooks at all different price points, while Apple primarily targets the high-end market, with its cheapest notebook being the outdated MacBook Air for $999 and up. Apple's profit margins are also significantly higher.
Apple routinely flip-flops between fourth and fifth place in the notebook market, so these results aren't overly surprising. The company is expected to remain the world's fourth most popular notebook vendor in 2018.
What's next for Apple's notebook lineup? We haven't heard much yet, but a recent report claimed that at least three new Mac models integrated with custom co-processors, including updated notebooks and a new desktop, are planned for release later this year. MacBook refreshes often occur between March and June.
Apple's desktop lineup has actually received more attention than MacBooks recently. In addition to the all-new iMac Pro, Apple continues to work on a Mac Pro with an upgradeable design. The portable Mac mini has also gone well over three years without an update, and could certainly use a refresh.
For a history of release dates and the latest rumors about the MacBook, MacBook Air, and MacBook Pro, be sure to visit our Mac Buyer's Guide.