HomePod No Longer Available for Launch Day Delivery From Apple in U.S.
As the launch of the HomePod approaches, it's no longer possible to place an order for delivery on Friday, February 9 in the United States. HomePod orders submitted today on the Apple online store will deliver next week, on February 12 to February 13.
In-store pickup for HomePod orders also became unavailable on Tuesday morning, suggesting Apple's initial online HomePod supply has been exhausted.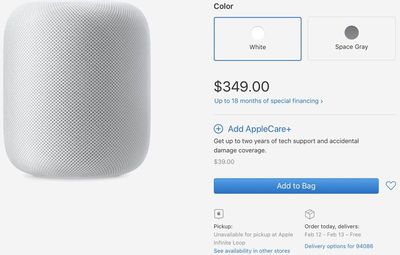 HomePod supply in the United Kingdom and Australia has also dwindled, and new HomePod orders placed in those countries will be delivered between Monday, February 12 and Wednesday, February 14.
Although HomePod shipping estimates have slipped into next week, HomePod supply has been plentiful throughout the pre-order process, and it's still going to be possible to get a HomePod on launch day.
In the United States, Best Buy continues to offer the HomePod with in-store pickup available on February 9, as do several retailers in the UK. It's also likely that Apple retail stores in the United States, Australia, and the UK will have stock available for walk-in purchases on Friday.
HomePod orders have yet to ship out from Apple, but customers should start getting shipping notices soon. In the United States, Apple is sending HomePod packages from local hubs via UPS using Next Day Air delivery. HomePod orders have not shifted from preparing to ship, but shipping labels were created earlier in the week and can often be tracked on the UPS website using the track by reference option and a phone number.