HomePod Availability is Tightening Ahead of Friday's Launch
HomePod supply is beginning to dwindle ahead of the speaker's launch this Friday across the United States, United Kingdom, and Australia.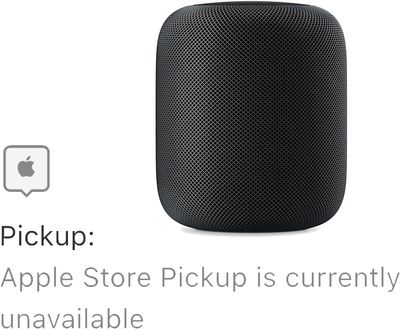 Apple Store pickup is now unavailable for the HomePod in all three countries, following several days of launch day availability, while delivery estimates for online orders of the speaker in Space Gray and White have been pushed back to February 12 in both Australia and the United Kingdom.
HomePod orders placed today on Apple's online store are still estimated for delivery on February 9 in the United States, when limited quantities of the speaker will be made available to walk-in customers at select Apple Stores and resellers, including Best Buy, John Lewis, Harvey Norman, Telstra, and EE.
Apple still lists most orders in the "Preparing for Shipment" stage, but that should soon change to "Shipped" as Friday draws closer. As noted in our forums, some customers have already been able to obtain a UPS tracking number.
HomePod sales will long be a subject of debate, as Apple's delivery estimates only serve as anecdotal evidence of exact supply and demand. We'll likely never know for certain, as the speaker will be grouped under "Other Products" in Apple's earnings results alongside products like the Apple TV and Apple Watch.
The embargo for HomePod reviews has just lifted this morning, with articles from The Verge, The Wall Street Journal, CNET, TechCrunch, iMore, and others. We'll have a more in depth roundup to share shortly.