Apple Sending Ad Spend and Install Reports to the Wrong Developers
Apple this morning has apparently sent several developers report emails for Search Ads Basics that belong to other developers.
The reports, which relate to promoted ads that show up in App Store search queries, have been received in error by several developers this morning, as noted on Twitter.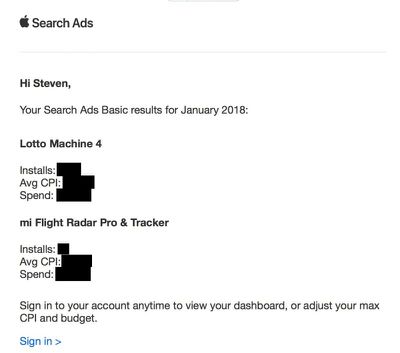 Um Apple you might want to check why Search Ads is emailing me some other developer's ad spend details pic.twitter.com/hfBcsqpCiy — Steve Troughton-Smith (@stroughtonsmith) February 6, 2018
Introduced
late last year
, Search Ads Basic works so that developers only pay out if a user installs the app. It includes suggestions on how much a developer should pay based on historical data pulled from the App Store based on the type of app being marketed, and uses App Store trends to target the ideal audience.
Today's communications error harks back to a similar issue Apple had with iTunes Connect that occurred two years ago, when users were shown someone else's session after attempting to login to their own account.
TechCrunch contacted some of the developers who said they had gotten the emails, and confirmed that the mis-sent message currently appeared to be the only issue. We'll update this article when we learn more.