iTunes Connect Issue Causing Developers to Be Logged Into Wrong Accounts [Updated]
A number of iTunes Connect developers have turned to Twitter and tipped us off about an ongoing issue where users are being shown someone else's session after attempting to login into their own account. Instead of seeing their own apps, iTunes Connect is mismatching users and displaying other apps from completely different developers. MacRumors has been able to duplicate this issue, which appears to be widespread and has been going on since at least 8 AM Pacific.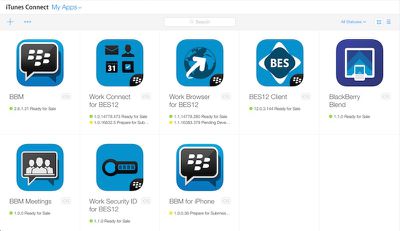 While other developers' apps are displayed in the iTunes Connect dashboard, attempting to take further action results in an "unable to process request" error and a redirect to the proper account. Sales and payment information does not appear to be accessible for the mismatched account. For some other users, iTunes Connect also appears to be experiencing issues with logging in.
Apple has yet to comment on the matter, and this post will be updated as further details become known.
Update 8:50 AM PT: iTunes Connect is now listed as unavailable.


Update 10:03 AM: Apple has now acknowledged on its System Status page for developers that users are "experiencing a problem" with iTunes Connect. No estimate of a timeframe for resolution has been given.
Update 10:13 AM: Apple is also acknowledging that its TestFlight beta services are also being affected, with users "unable to submit new apps and invite new testers."
Update 12:31 PM: It appears that iTunes Connect is back online.
Update 12:43 PM: Apple is now reporting on its System Status page that iTunes Connect and TestFlight services have indeed been restored.